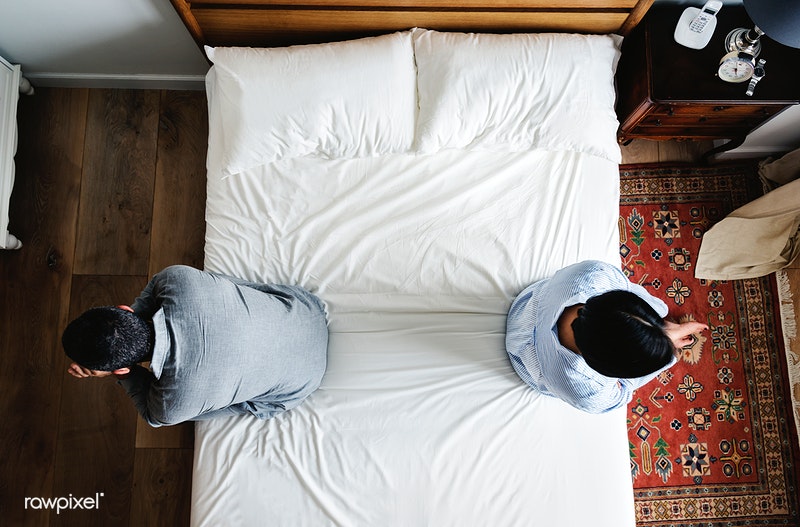 Not Ready To Give Up On Your Marriage?
This website is owned and operated by BetterHelp, who receives all fees associated with the platform.
In other words, fixing a broken marriage isn't always in the cards, which is perfectly okay. This isn't to say that signs of trouble automatically mean divorce is the next step.
Many couples can work through tough issues and grow together. Keep reading to learn how to fix a broken marriage.
What Can You Do To Fix Your Broken Marriage?
You never thought you would end up in a bad marriage and wonder how to fix a broken marriage, let alone considering divorce.
You tried to be careful, waited, and took your time to find a partner who had all the basic things needed for a successful marriage.
Now, it's looking like you, and your partner can't seem to overcome the many recurring marriage problems that are threatening your home and marriage.
Conflict may seem to arise in practically every situation, you no longer feel appreciated, and the littlest of things seem to get under your skin.
One of the promises you made to yourself was that when you get married, it would be till death do you part, but here you are, in the middle of a troubled marriage that seems to be leaning towards divorce with every passing moment.
You may not want to give in to the pressure and give up or get divorced, but you are also feeling hopeless and aren't sure how long you can hold on or if holding on is the right thing to do.
Broken Marriage: Is Your Broken Marriage Worth Saving or Should You Separate Instead Of Remaining Married?
On the other hand, a separation or divorce is a significant life change. Separation or divorce will rarely be comfortable, pain-free, or seen as the ultimate solution.
Deciding to get a divorce is a major life decision that shouldn't be taken lightly.
Many younger married couples don't realize that healthy relationships usually don't deteriorate overnight but through consistent lack of communication and misunderstanding.
Looking For Broken Marriage Signs
The signs of this can be seen long before they reach the critical point of indicating a broken marriage, sometimes becoming evident to people outside the relationship before the couple can see it themselves.
So, you may be wondering if the marriage problems you are going through are a normal rough patch that will pass after some time or if your marriage has reached a critical breaking point.
Even though there is no fool-proof way to figure out if the marriage problems you are currently facing are only temporary, or whether these marriage problems are indeed big indications that your marriage relationship is headed for divorce, there are certain signs that can help you to figure out if your marriage needs serious repair.
Getting Professional Marriage Help Can Help Fix A Marriage
You may start wondering on ways to fix a broken relationship or if it's a marriage worth saving in the first place.
It may be time to evaluate the state of your marriage or married life and make it a priority to fix your relationship and fix your marriage.
You can find a therapist who specializes in couples counseling to walk you through this process.
Warning Signs That Your Married Life Is Doomed For Failure
Constant Negotiation Within Married Couples
Knowing when to compromise is a necessary technique in every romantic relationship. However, each person in a relationship should be looking out for their spouse as well as themselves to ensure both parties feel respected.
However, in an irreparable marriage, this will be much more difficult. You may make many small compromises each day, such as "I'll make dinner if you wash the dishes."
Still, when it comes to making a meaningful sacrifice for your partner's happiness, such as parenting styles and big financial decisions, successful couples will both find themselves compromising to reach common ground.
Arguing Instead of Having Faith And Discussing
Discussions are a crucial component of making a relationship work, but they can be unproductive when these conversations turn into fights.
Real conversation implies talking about relevant issues instead of criticizing each other. It enlists active listening and open communication.
Being able to share your feelings with your partner is an important aspect of having a healthy relationship.
Having the occasional argument is by no means a sign of a relationship in trouble, but the way you conduct yourselves during moments of stress can be crucial in how to fix a marriage.
Marriage Counseling & Communication
Luckily, couples therapy or relationship counseling can aid in fixing an irreparable relationship.
Working on how you handle conflicts is one of the crucial steps to fixing a broken marriage.
It can be of great help for mitigating intense emotions and strengthening the marriage foundation.
Fixing The Marriage Doesn't Seem Worth The Effort
The emotional tone of some failed marriages isn't passionate outrage but exhausted indifference. Indifference in a marriage can be huge marriage warning signs. An unhappy marriage is more likely to dwindle over several months or years slowly over feelings of indifference in the marriage.
It is possible to repair a marriage or married life that has already suffered severe damage, but this requires both sides' work and commitment to repair a broken relationship effectively.
Once one or both partners feel that it just isn't worth the trouble to start fixing a broken relationship, they may not be willing to take any of the steps to repair their relationship.
The marriage may feel over, even if the marriage doesn't result in a formal divorce or separation.
Broken Marriage: Wondering What You Should Do Next?
Your marriage may face conflict that may make you wonder if you have a relationship worth saving at some point during married life.
During this time, you and your partner will be challenged to understand, acknowledge, and forgive the transgressions and faults.
You both may attempt to figure out how to repair it and start to take steps to repair your married life but may find that in the end that fixing your relationship isn't possible.
No matter what you decide, speaking with a therapist specializing in couples counseling can be a great first step.
Obstacles That Cannot Be Overcome And Can Lead To Divorce:
Abuse: There is no excuse for physical violence or abuse. If one partner acknowledges that they are physically or mentally abusive and refuses to change or get help, then there is no hope for saving your marriage.

The abused partner has no choice but to seek separation and divorce to protect themselves and the children (if any) from the abuser. Moving out has to be planned meticulously.

You need to take the bold step, with a rescue plan put in place; tell a trusted friend or someone in your family what you are doing and where they can reach you.
For your safety, try not to disappear. If you have been experiencing domestic violence, reach out for help immediately.
You can reach the National Domestic Violence Hotline at 1-800-799-7233, 24 hours a day, seven days a week.
2. Financial Control: If one of the partners refuses to allow their partner more financial control even after counseling, then the relationship or marriage should be discontinued.
The financially controlling partner usually views themself as the correct one, and they likely do not consider their partner's needs and wants.

If you plan to leave, you'll need to have your finances, so consider making some financial changes, such as taking paper checks instead of having them directly deposited into your joint account before you leave.
3. Infidelity:If one or both of the partners in a relationship resorts to having an affair, the marriage can often be salvaged with counseling and forgiveness.
However, even after counseling and empty promises regarding future behavior, multiple affairs can cause the trust to be genuinely broken.
It is unhealthier to stay in a marriage with infidelity, jealousy, and anger than to leave and start anew.
4. Lying: If counseling and therapydo not change the liar's behavior, it may be time to consider separation or divorce. Lying may start as a series of little, inconsequential lies that you can ignore and make excuses for within a marriage.
As time goes on, however, you may see an escalation in this truth avoidance which can indicate a broken marriage.
Counseling for both partners is necessary to repair the eroded trust. But if one partner refuses to acknowledge the lies or refuses to change, divorce is likely the healthiest choice.
Are You Wondering About Ways To Fix A Broken Marriage?
If you're in an unhealthy relationship, and you and your partner are willing to put in the work to save your marriage, reach out to a licensed counselor to start online marriage counseling.
In a 2007 study, researcher and psychologist Neil S. Jacobson found that even when one or both people in marriage felt that their relationship was hopeless, therapy with a licensed counselor made a positive difference.
Having someone guide you through difficult conversations and share relationship-building techniques with you can help turn marriages around for the better. It also helps in a relationship to create a safe space to share these possibly difficult feelings and topics with your partner and having a licensed professional to help guide those difficult conversations has proven to be helpful.
Can Counseling Help A Toxic Marriage?
Not Ready To Give Up On Your Marriage?
If you and your spouse have busy schedules or the tasks of adding a commute and finding childcare sound like too much to add to your plate, consider an online marriage counseling option.
ReGain has licensed counselors available to talk with you online in individual therapy or online marriage therapy so that you can stay in the comfort and privacy of your own home.
ReGain can provide help to start you and your partner on the next steps to help fix your relationship.
After starting to go to therapy sessions, to repair a relationship takes a commitment of both partners in sessions and outside of sessions to work towards your common goal of repairing the relationship.
To get started with finding the right therapist for you and your relationship on the ReGain platform, you will start by filling out a questionnaire.
This is in order to make sure the therapist you are matched with suits your unique needs. After the questionnaire is completed, you can be matched with a licensed therapist within a few hours to max a few days.
From there you can communicate with your therapist in a variety of ways from messaging to phone to video - whichever is the most comfortable.
Below are some reviews of ReGain counselors for you to review from people experiencing similar issues.
Counselor Reviews
"Camille is amazing!!!! We are so grateful for her expertise and wonderful advice. She saved our marriage, and we will always be grateful for her."

"Christina was very helpful when I told her I left my spouse. I wasn't sure what I wanted, a divorce or reconciliation. She helped me start processing where I was, where I see myself, what I want, and how I see myself obtaining these goals. She did not influence any of my decisions but guided me with thought-provoking questions. Throughout our short sessions, she reassured me that she or someone else would always be there for me. Thank you, Christina, for your professionalism, your guidance, and your compassion to help others. I look forward to continuing my therapy sessions with you, as my goals are not yet met."