Couple Things To Do When You're Tired Of Dinner And A Movie
The beginning of a relationship is often exciting, novel, and passionate. Overtime, however, they can become predictable, inattentive, and uninspiring. Occasional boredom in your relationship can often be addressed by changing your routines and putting more effort into your dating life. If you're finding it challenging to make your relationship more exciting, a couple's therapist can help.
Need Help Breaking The Routines In Your Relationship?
Why Boredom Enters Relationships
The start of a relationship, sometimes called the "honeymoon phase," is often characterized by attraction, euphoria, and passion. The honeymoon phase can last for weeks or even years, triggered by the rush of dopamine (the "happy hormone") that enters your brain every time you look at, or think about, your partner. Over time, dopamine levels drop and are replaced by long-term attachment hormones, called vasopressin and oxytocin, signaling the end of the honeymoon phase. While a sense of connectedness and mutual compassion endures, longer-term relationships may not feel as exciting or passionate. That's not a bad thing, but it can lead couples to investing less energy into their relationship and fall into routines, which can lead to boredom. 
Strengthening Your Relationship
We aren't typically taught how to nourish and strengthen our relationships in school. Before exploring how to add excitement to your date nights, you and your partner may benefit from intentionally engaging in your relationship. Try using the following tips to foster a stronger connection: 
Speak Their Love Language
Do you know how your partner wants to be loved? If not, you can take the free love language quiz together to find out. The five love languages are words of affirmation, physical touch, quality time, receiving gifts, and acts of service. 
Words Of Affirmation: People whose love language is words of affirmation enjoy praise, encouragement, and appreciation. You can practice this love language by leaving a love note on the front door, noticing and thanking your partner for their contributions, or sending them an uplifting text. 
Physical Touch: If your partner's love language is physical touch, holding hands, kissing, or giving your partner a massage may be their favorite way to feel loved. They may appreciate a date night that consists of a romantic massage or dance lessons. 
Quality Time: This love language is all about having uninterrupted attention. If this is your partner's love language, consider booking a babysitter if you have kids, turning off the video game console, and putting your phones away for some one-on-one time. 
Receiving Gifts: People who love receiving gifts appreciate the effort and consideration that goes into picking out a gift. Consider making them a homemade present or buying them their favorite candy. For a date, you could surprise them with a weekend trip or concert tickets. 
Acts Of Service: An act of service can make your partner feel cared for. If this is their love language, they will likely notice and appreciate your efforts. Consider cleaning out the fridge, taking in the car for maintenance, tuning up their bike, or organizing the junk drawer. 
When you know how to love your partner, you can surprise them with the acts of love that they will appreciate the most. 
Studies find that spending high-quality time together, without distractions like technology, can improve relationship satisfaction. On the flip side, using your phone while you're talking to your partner can harm relationship satisfaction, leading to conflict, jealousy, feelings of exclusion, and reduced intimacy. When you're having a date night, try putting your phones in a drawer or turning off notification pings. 
Laura Doyle, a relationship coach, advises that it's important not to neglect your individual needs. Spending some time away from your partner can help you take care of your own needs and make the time you do spend together more meaningful and exciting. 
Work On Your Communication In Therapy
If you and your partner are both open to it, couples therapy can be a helpful tool to learn more about each other and connect on a deeper level. If the idea of in-person couples therapy sounds daunting, you may prefer online therapy from a site like Regain. 
A 2019 study on the experiences of participants in online couple's therapy found that the physical distance from an online therapist can make sessions more comfortable. Additionally, a 2022 peer-reviewed study found that online couples therapy effectively improved relationship satisfaction, mental health, and marital happiness. 
Breaking Up With The Date Night Routine
Can you get back to the honeymoon phase? According to Esther Perel, a well-known couples therapist and host of the podcast, Where Should We Begin?, you can. She says that "[re-sparking] eroticism in the home requires active engagement and willful intent. It is an ongoing resistance to the message that marriage is serious, more work than play; and that passion is for teenagers and the immature." While the deep connection and dependability forged in long-term relationships is important, you can work to keep things interesting and exciting. Try surprising your partner with some of the following suggestions, none of which include dinner and a movie:  
Research shows that traveling together can improve your self-reflection and creativity. If you've been feeling uninspired, you may want to consider booking a hotel or saving for a camping trip. Alternatively, if you don't have the time or budget, consider planning a staycation. 
Preparing a meal for your partner (or with them) can be a fun activity. If your partner's love language is receiving gifts, quality time, or acts of service, they may be particularly appreciative of this activity. 
Break up the monotony of eating meals at your table by preparing a picnic. You could make sandwiches and cakes, or you could pick something up from the store. Bring a blanket and some cushions along, and have your picnic in your yard, at a nearby park, or on your living room floor. 
If your go-to event is dinner and a movie, try branching out to something new. For example, try going to a concert, standup comedy night, 90's night at the roller-skating rink, trivia night, bingo, wine tasting, open mic night, a neighborhood gathering, or a musical.  
Try A New Activity Together 
Trying something new together can be an opportunity to learn something about yourselves and each other. You might find that you both enjoy something like kickboxing classes, salsa dancing, hiking, cooking classes, gardening, yoga, kayaking, swimming, painting, music classes, intermural sports, or beekeeping. 
Not all couples choose to be physically intimate. However, if you do, it can be important to remember that penetrative sex is not the only form of physical intimacy. Foreplay can strengthen emotional intimacy, reduce stress, and release feel-good hormones (dopamine, oxytocin, and serotonin). A date night can be as simple as setting aside distractions, putting on music, lighting candles, and making time for intimacy.
Volunteering can reduce stress, depression, and anxiety while boosting life satisfaction, sense of belonging, and well-being. When you volunteer with your partner, you can both reap these benefits, and you may feel more connected with them, especially if you're volunteering for a cause that's important to you. You can start by volunteering with your local food pantry, fostering animals from shelters, or helping clean up your neighborhood park.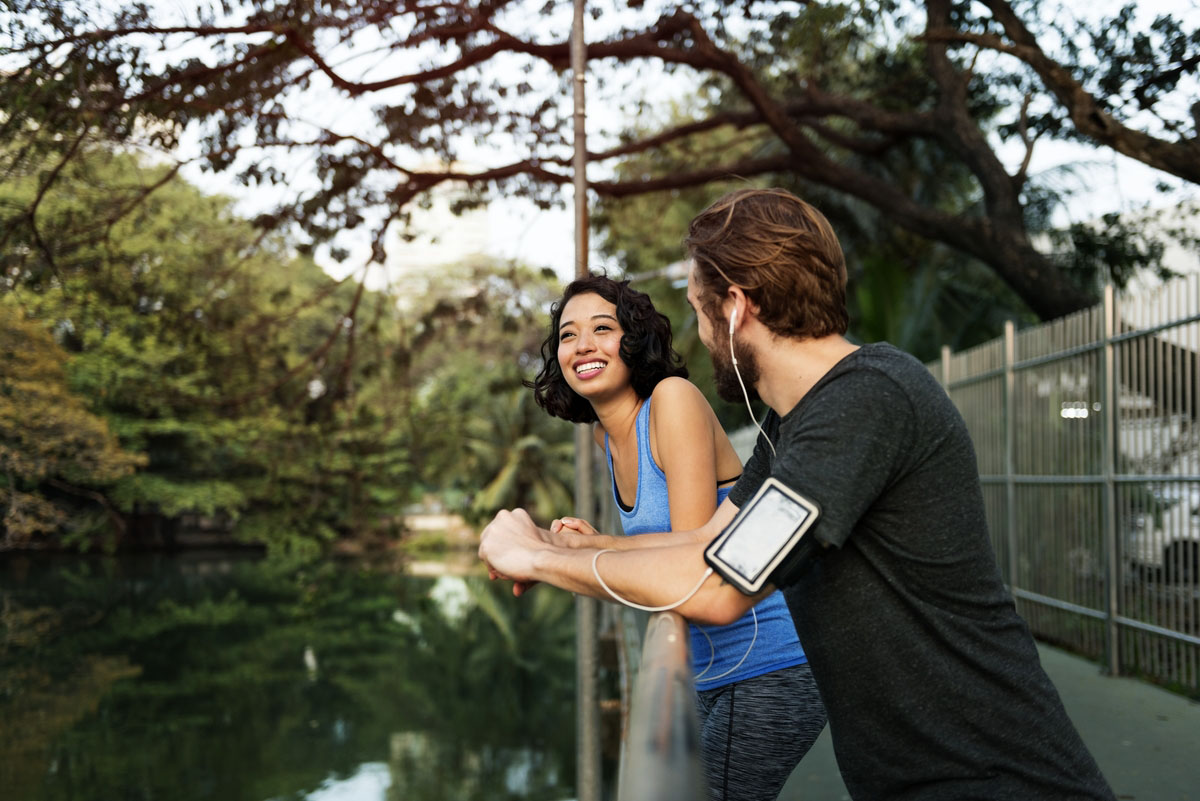 When Boredom Is A Problem
Oftentimes, boredom develops slowly as you transition out of the honeymoon phase and into long-term, compassionate love. However, the end of the honeymoon period is also the time you may start noticing flaws, red flags, or incompatibilities with your partner. If you're bored for one of the following reasons, it might be time to make more substantial changes in your relationship: 
You Don't Share The Same Interests: Though you do not need to share all of the same interests, passions, and goals, it can be a sign of incompatibility if you don't have much of anything in common, especially when it comes to your values. 
Your Conversations Are Surface-Level: Long-term relationships rely on healthy boundaries, communication strategies, trust, and vulnerability. If you and your partner don't engage in deep conversations about your future, goals, emotions, and opinions, you may find yourselves becoming more distant. 
The Relationship Has Become Neglected: Relationships require continued investment and attention. If you're not making the effort to keep things interesting, you might start to grow apart.  
You've Lost Individuality: To quote Esther Perel, LMFT, again:
"Today, we turn to one person to provide what an entire village once did: a sense of grounding, meaning, and continuity. At the same time, we expect our committed relationships to be romantic as well as emotionally and sexually fulfilling. Is it any wonder that so many relationships crumble under the weight of it all?"
Our partners cannot fulfill all our needs. It may be a good idea to maintain some of your own friends, interests, hobbies, and goals outside of your relationship. Otherwise, you may begin to lose your sense of self and/or resent your partner.
These reasons do not necessarily mean that your relationship should end. If you're both open to it, you may want to reach out to a couples therapist. They can work with you to develop stronger communication skills, and assign "homework" intended to help you overcome your challenges.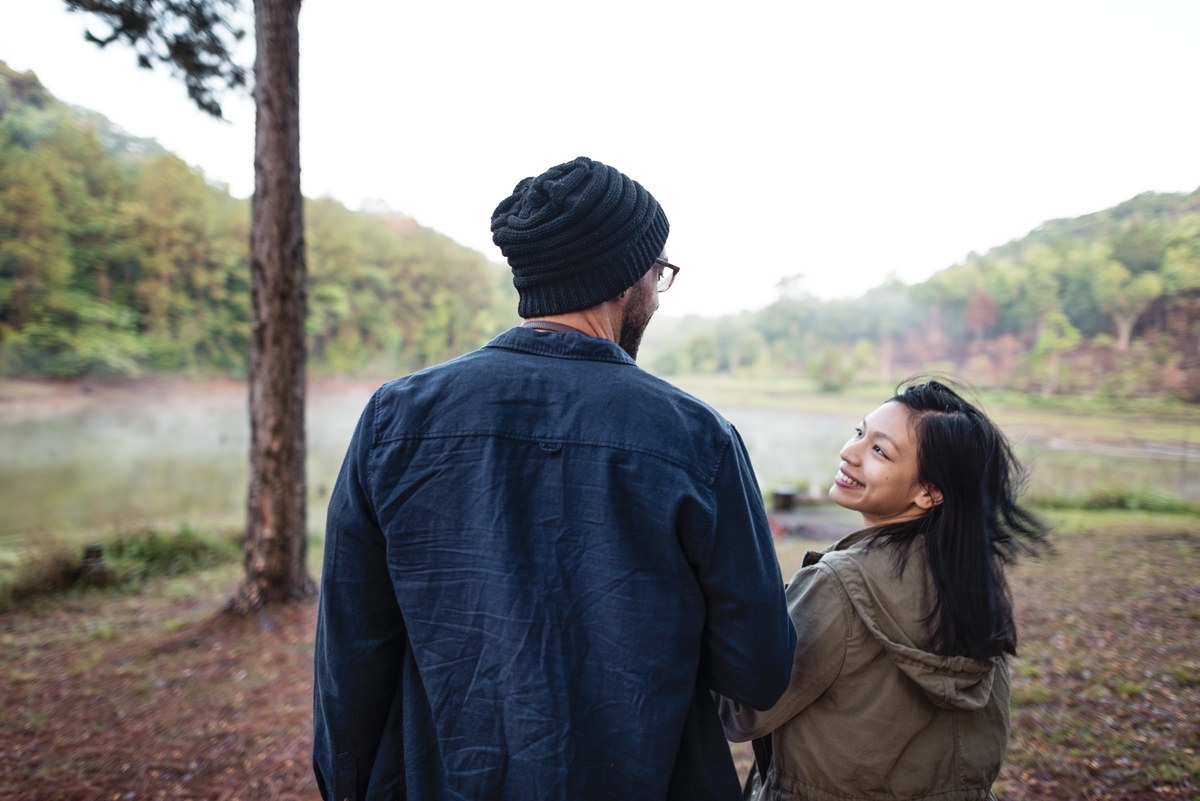 Need Help Breaking The Routines In Your Relationship?
Takeaway
Most relationships experience boredom from time to time, especially after the honeymoon phase has ended. By strengthening communication, investing adequate time and energy, and mixing up routines, many couples can add excitement back into their relationship. 
If your boredom stems from something larger than a shift out of the honeymoon phase, it may be a good idea to talk with a professional. A licensed online couple's therapy therapist can help you and your partner address the root cause of your boredom, and studies find that online therapy can improve long-term relationship satisfaction and mental health. 
Frequently Asked Questions (FAQs)
What activities can couples do?
There are a ton of creative ideas for couples who want to spend time together. Unique and cute date ideas for couples may include an indoor picnic, a wine tour, or a couples class, such as a couples art or yoga class.  You can also play couples games or spend time together at home doing an activity you both enjoy.
What can couples do when bored at home?
When you're bored at home, you might work on a home improvement project together or change up the decor in your home, recreate your favorite restaurant meal from scratch, listen to podcasts, have an indoor picnic or learn how to play a new game. As a couple fun ideas to try, you can play hide-and-seek, go outside and throw a ball around with your partner, read books aloud to each other, take a dance class together, or play a board game. If you're feeling adventurous and want to incorporate some physical activity into your date night, consider going for a bike ride or hike together.
What can couples do when bored?
When you and your partner are bored, try a new activity or put your heads together and learn something new. You might learn how to play a new card game or sport, for example. Anything that breaks you out of your comfort zone is an excellent way to change it up. Bonding activities, such as playing a game of 20 questions to see how well you know each other or playing an online game designed for couples, are also great options for when you and your partner or spouse are bored. If you can, you might head to a destination you've never been to before. Though it can be fun, you don't necessarily even need to venture out of town. Simply going to a beach, you haven't been to or trying a new restaurant in the part of town you don't frequent often is enough. If you've been to any landmarks nearby that your partner hasn't seen yet, now is a great time to show them.
What can couples do together in lockdown?
It's easy to fall into waiting for the lockdown to be over to have fun, but it's important to make the most of it. Likely, you'll feel much better when you do. Here are some ideas for couples to spend time together during a lockdown:
Try taking a virtual exercise class, art class, language class, or any other class you're interested in.
Change the decor in your house or apartment. Alternatively, do a deep clean; it may not sound particularly riveting, but it's certainly rewarding. You'll both feel accomplished when you're done.
Play couples games.
Since you can't go on a beer or wine tour, bring it home. Get some new products and sample them together.
Try a new artsand crafts project. Bonus points if you make something for each other. For example, you might get a T-shirt-making kit or a candle-making kit and make one for the other person.
Play video games, board games, or card games.
Take quizzes or personality tests. It's a great way to spend time together, and often, you'll be able to find quizzes and personality tests for couples online for free.
If applicable, go through old photo albums or family photos. It's both a way to bond and a walk down memory lane.
Indoor date ideas for couples in lockdown may include but aren't limited to attending a digital event, watching a favorite television series together, having a DIY home spa day, or making a taco bar, pizza bar, or frozen yogurt bar. Set out the toppings for the tacos, pizza, or yogurt and recreate a restaurant's fun at home. Other date ideas for couples in lockdown include cooking or baking something together, dancing, or at-home karaoke. Having an indoor date is a great way to spend time together and keep the love alive during lockdown. If you're apart, there are ways to connect remotely, including video chat and online games or activities.
What should couples do at night?
Whether you're going for creative or classic, there are many ideas for couples who want to spend time together at night. If it's not too dark yet, you may be able to take a walk around the neighborhood, at the park, or on the beach. You can also watch the sunset or the stars, try a new cuisine, make tea or cocoa together, or get cozy and cuddle while watching a movie, taking a couples quiz, playing a game, or having a deep conversation. 
What can I do with my girlfriend at home?
Here are some ideas if you're wondering what to do with your girlfriend while you're at home:
Surprise her by cooking a meal and setting up a candlelit dinner at home.
Make collages or vision boards together.
Get a soap-making, origami, or candle-making kit.
Find quizzes for couples to take or games for couples to play online. You might also be able to find couples card games and other games to order online or buy in a store near you.
Build a fort together or try other throwback childhood activities you know you both enjoy.
Before she comes over, get everything ready for an extra cozy movie night. Set out snacks, consider buying string lights or anything else that will make it extra special, and put it all together before she gets there.
You may also try any of the indoor date ideas for couples listed under the question "What can couples do together in lockdown?" If you surprise your girlfriend, select something with her in mind. It'll show her how thoughtful and caring you are, and you will both have a great time!
What can I do instead of dinner and a movie?
What can couples do for fun at night?
Is dinner and a movie a good date idea?
What can I do instead of seeing a movie?

Previous Article

Next Article
This website is owned and operated by BetterHelp, who receives all fees associated with the platform.
For Additional Help & Support With Your Concerns
This website is owned and operated by BetterHelp, who receives all fees associated with the platform.
The information on this page is not intended to be a substitution for diagnosis, treatment, or informed professional advice. You should not take any action or avoid taking any action without consulting with a qualified mental health professional. For more information, please read our terms of use.