The Benefits Of Military Marriage Counseling
Updated August 19, 2020
Medically Reviewed By: Whitney White, MS. CMHC, NCC., LPC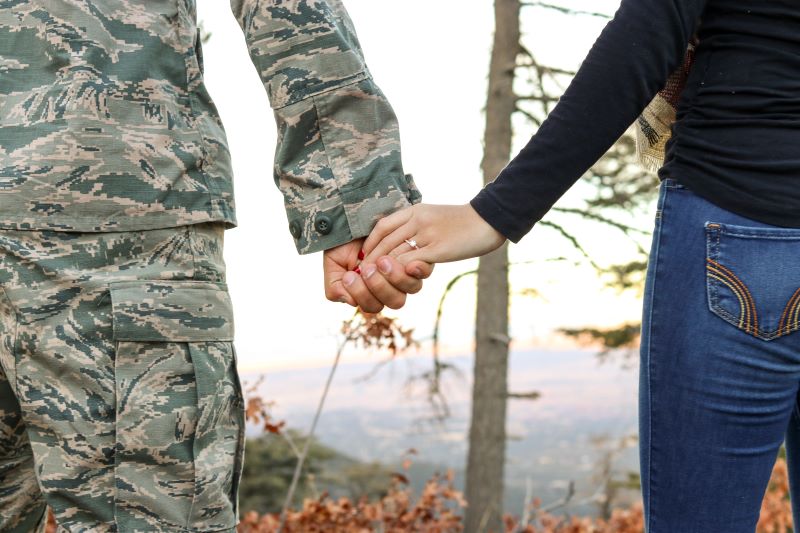 Source: rawpixel.com
The vast majority of marriages become strained at some point along the way. Couples in special situations, like having one or both partners in the military, may face even more stress. The military may cause couples to move more often or require that one partner be away from home for months on end. A couple may also be struggling with how to cope with post-deployment, particularly in cases where the returning partner is coping with lack of sleep. Members and military spouses often both need advice and support during these transition and reintroduction phases. It is not always easy for either party, but there are marriage resources to help facilitate family's mental health care. The challenges of military life can be hard on marriage relationships, so these services are in place should you need assistance of any kind.
Over the years, it has been noticed that there has been and is higher divorce rates in military marriages. All marriages, civilian and military go through times of stress. In the military, it is a fact of life that the family is required to move frequently across the country every two or three years or to face deployment to overseas postings. Having to make new acquaintances, start new schools, and make new friends can be daunting for each member of the family. It can often lead to feelings of isolation and loneliness. In the case of deployment, the family faces long periods of separation. anxiety, or PTSD (post-traumatic stress disorder). While there are family benefits of military life, there are also hardships. Military personnel and their family can travel the world, depending on the type of job the serviceperson has and their career advancement. But it is not always glorious. The constant moving can put a strain on the members and their spouses, as well as their children.
However, contrary to popular belief, the divorce rate in the military is not necessarily higher than those among civilian couples. While this may put couples' minds at ease, issues and particular situations can cause couples to fear the worst. Luckily, military marriage counseling can help military couples when they face marital issues. There are licensed counselors and marriage counseling military experts available for those who need it. The health benefits military members have typically cover these services, as well.
Understanding Military Marriage Counseling
One worry among service members who feel their relationship needs help is that a counselor will not understand their situation. Members of the military should rest assured that military marriage counselors understand the specifics of what military partners go through. In deployment situations, they can help partners deal with the stress throughout the different stages. When deployment orders are given, couples are often sad and may be in denial. This is a critical stage to start receiving counseling because both partners are still physically together. While your family may be preparing for deployment, it is critical to take advantage of the resources military marriage counselors can provide to help address the challenges of military life.
The counselor can also help partners to prepare for deployment by giving them tools and suggestions for how to communicate and stay positive throughout the deployment phase. During deployment, the partner who has stayed at home should continue meeting with the counselor while the deployed member seeks counseling abroad. Whether an air force airman, on a navy fleet, or are stationed at an army base, all active duty military personnel have access to overseas services. Those with security clearance jobs can also take advantage of these military installation counselors. Once the partner has returned home, military marriage counseling can help to reintroduce the couple to one another and ensure the reintegration goes smoothly.
Reasons to Start Military Marriage Counseling
It is common for members of the military to feel ashamed for seeking help. Fortunately, recent attempts to encourage military members to seek counseling for PTSD (post traumatic stress disorder) have begun to normalize asking for help. Military members should understand that counselors only seek to provide help and support and are not there to judge. Meetings are completely confidential. For couples that are still worried about peers seeing them walk into a counselor's office, another option is to seek marriage counseling through the Internet. Members and their spouses can find more information about online counseling through either their military officers or with a quick internet search. One of the benefits military life can offer is that there are a multitude of resources available, including military marriage resources and counseling support. They can also tell you about onesource military services and how to visit military onesource providers.
This can provide couples the opportunity to privately seek counseling without having to worry about judgment from others. Additionally, this allows flexibility in time and choosing the right counselors. Couples having any type of issue can be rest assured that there are plenty of available counselors who are ready to help military couples.
Stressors of a Military Marriage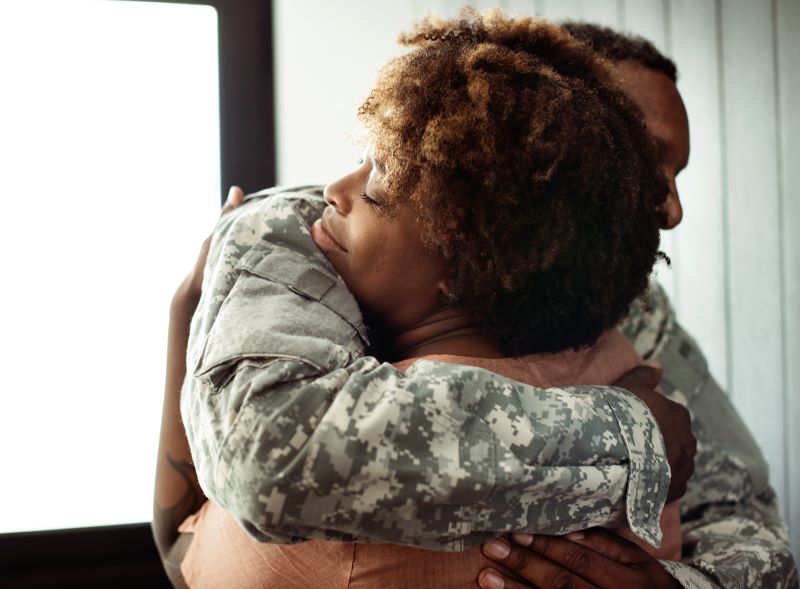 Source: rawpixel.com
If one of the spouses is in the military and the other is not, the separation can be a severe challenge to the spouse and family members left behind. Distrust can rear its ugly head on both sides - the spouse on deployment and the spouse left at home.
Another stressor is the fact that a person in the military earns less than he/she would if they were employed in a similar job outside the military. This can cause great hardship to military families that have multiple children. This is especially true if only one partner in the marriage is earning military pay. While home ownership is often covered by the military base itself, as you can get on-base housing, some families want to have a house off base. In order to make this happen they need to make sure that their income is sustainable for home ownership. The last thing anyone wants is additional stress when it comes to paying household bills.
For those who retire from the military, they can find jobs veteran life is suitable for; however, integrating into the regular workforce can be stressful for some veterans. They feel misunderstood or that they do not work well with a less than structured schedule. Jobs veteran members typically enjoy, involve those with high structure. However, if the person suffers from PTSD, there are times when flexibility is important. Every veteran integrates into the civilian world differently and counseling can help them do it easier.
Depression can negatively impact either partner in a military marriage - the partner who is employed in the military and the partner who is not or is left behind when the other is deployed. Without help, this depression can become chronic and lead to other issues, such as substance abuse, partner abuse, or feelings of hopelessness. Depression suffered by one of the adults can affect other family members, especially children. When chronically depressed, the person cannot deal with ordinary family matters and make rational decisions. Children often blame themselves for whatever is happening to the parent or at home and this can lead to negative behavior at school, isolation, becoming a danger to themselves, and other socially unacceptable behavior.
One of the worst stressors is when a military spouse is deployed to a war zone. This kind of deployment is linked to the deployed person suffering from anxiety, sleep disorders, and adjustment disorders when they return home. Many who return home after being in a war zone suffer from PTSD (post traumatic stress disorder), IPV (intimate partner violence), mood changes, alcoholism, and drug abuse. Women personnel returning from deployment may also suffer from sexual harassment and sexual assault.
Recent research has shown that the divorce rate of returning personnel from a war zone jumped to over 40%. Free military counseling can help reduce this rate by helping both parties to get the support they desperately need. Those who continue to have an active day military wise may do better than those who are discharged from service right after war. Again, each person and situation is different and counseling can help dramatically. It is important to take advantage of free military counseling and the family benefit associate with them.
If either spouse is feeling the pressures of moving often or being separated, the first thing to do is to seek counseling - as a couple together but individually if necessary. Complaining to friends and family will not rectify the situation and bring the couple back to understanding each other's position or to heal trust issues.
What to do when seeking help
A military marriage counselor is free to military families and is available to give unbiased help that is confidential. A military counselor understands the pressures and stresses that can occur in marriages when one or both partners are in the military.
Before reaching out to a counselor, the couple should be agreeable to seek help, should be aware of what counseling can do for them, and be willing to speak honestly about their feelings and any suspicions they have - real or imagined. Counseling will give the partners in marriage tools for effective communication and will encourage each partner to refrain from lying, making accusations, arguing fruitlessly, and having negative situations escalate to abusive behavior.
One partner has to make the initial call for help. During that call, the counselor will make an appointment for further discussions and will take into account the schedule of the active member of the military.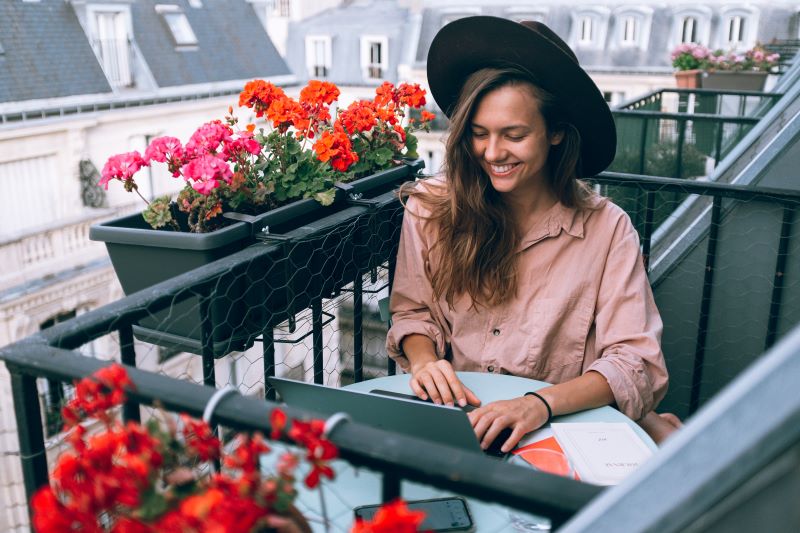 Source: pexels.com
Most likely, each partner will be counseled separately with the ultimate goal of being counseled together. This gives each partner the opportunity to be truthful even if it is not flattering. It allows for each partner to be able to confess their faults or to admit to drug or alcohol abuse. It also gives the counselor the opportunity to confront the parties separately about the behavior the other partner has brought to the forefront. It also keeps the pair from wasting the first few sessions in being silent, resorting to name calling, and arguing in front of the counselor. Seeing the counselor one-on-one removes the feelings of guilt about the situation as each partner sees it and they will not fear speaking the truth in front of their partner.
One-on-one, the counselor might offer suggestions to each partner as to how to speak to each other without arguing. If there are children involved, the counselor will suggest that the couple refrain from arguing in front of the children. Once combined counseling starts, the counselor will prompt each partner to admit to their feelings and will begin by giving the couple appreciation exercises to do at home. These exercises are designed to promote better communication, to encourage trust in each other, and to show each other kindness and appreciation.
There is no guarantee that counseling will bring a couple back together, but it is a start to being honest with each other. If one of the spouses is also dealing with substance abuse or mental illness, a military counselor can refer that person to other sources of help. In order to find a solution to repair a damaged relationship, a counselor can be a source to find rational ways to solve problems, especially if both partners are willing to make the effort. It is often a case of a need for forgiveness on the part of both parties. There has to be a willingness to change and willingness to see each other's viewpoint.
There are a number of ways to contact a counselor. Your regular doctor can refer you to someone you may see who accepts your military insurance or a number of programs that are free or low cost to military members.
Another source for counseling advice is an MFLC (Military Family Life Consultant) on base. The MFLC provides non-medical counseling to improve home relationships and work relationships. They will counsel regarding adjustment to life at home and at work after deployment. They offer parenting advice; help find solutions for family problems and/or anger management. They also provide advice and guidance to those dealing with grief and loss. This can also include trauma therapy and addiction counseling, but this does not include prescriptions for medications.
It isn't necessary to only see a counselor through a military service, though. If you prefer online sessions or if you prefer to attend counseling in a more private way, you can do so through external counseling centers, or through online platforms like ReGain.Us. Many counselors at ReGain are familiar with military life, some are even veterans themselves!
Frequently Asked Questions (FAQs)
Is marriage counseling covered by Tricare?
Tricare covers a number of mental health services. According to the Tricare website, Tricare only covers marriage counseling as a form of medical counseling when it is necessary due to a diagnosed condition.
Military onesource is another option for medical counseling or mental health counseling, including marriage counseling. Military onesource is funded by the department of defense, and there are many ways to access their services. On the military onesource website, there is a live chat option as well as a phone number and an option to schedule an appointment. When it comes to onesource and the military, onesource is a crucial support for many, whether you're a military spouse or service member. Visit the military onesource website for more information on how military onesource can help military members and their families with military life and other concerns.
There is no reason that the military lifestyle that your family has become accustomed to should be the demise of a relationship. Sure, family military life has its challenges, and marriage is hard for even civilian couples, but there are many military families who have successful marriage and partake in counseling services.
Does the military offer marriage counseling?
If you are a military spouse or service member, you can get specific medical or non medical counseling services, including marriage counseling. As stated in the article above, you can also seek help from a consultant at the support center on base. Depending on your branch, you may seek army community services, marine corps community services, airman services, and so on. These community services are available to those involved in any branch of military life and are only some of the resources military members can access. At your support center, you may get a counseling service from licensed providers that can help with a variety of concerns, including stress, crisis intervention, family life, and so on. Depending on your situation, you may also consider a military treatment facility for specific concerns.
If your non-military enlisted spouse has a job off base, their insurance may cover counseling. Many family friendly employers have health insurance programs that support the mental health care of the household. Mental health family benefits are important for all members of a military family. If you cannot get your Tricare military benefits to cover marriage counseling, your family friendly employers healthcare insurance package most likely does. These family benefits should be actively utilized.
If you have security clearance jobs with the military, the company you work for may offer a great mental health care insurance package. Clearance jobs exist in all aspects of military life and can impact your family just like those who are service members. Whether you have a family military system or a clearance job employer, there are options available to all for mental healthcare.
Those who engage in community service navy fleet operations may also be able to benefit from counseling resources.
Can veterans get free marriage counseling?
There are free marriage counseling resources for military veterans. The military one source website provides free and online seminars (webinars) for married couples and up to 12 counseling sessions. A service member, as well as a military spouse or another immediate family member involved in military life, can find tools and assistance through the military onesource website.
A military spouse might seek counseling for a variety of reasons. A military spouse may experience anxiety or grief when service members leave, or they might struggle to navigate military life or military and family life. Medical counseling can benefit military veterans, but it can also provide family support and support for a military spouse. Additionally, there are services designated for those currently serving in the air force and other branches who need them.
What is the difference between marriage counseling and couples therapy?
Marriage counseling is a form of counseling for married couples. There are many modalities or forms of couples counseling that a couple can seek whether they're married or not. Prior to getting married, a couple might look for couples therapy through the form of premarital counseling, but if they are already married, the couples counseling they get would be interchangeable with the term "marriage counseling."
Does marriage counseling lead to divorce?
Marriage counseling doesn't lead to divorce. In fact, the turn out can be quite the opposite. Marriage counseling can help you build and maintain strong bonds with your partner and work through any concerns that you might have, whether they're related to military life or other matters in your relationship. A marriage counselor isn't there to make decisions related to divorce and will instead support you and your partner in the choices you make, as long as they don't put you or anyone else at risk. Counseling can help many couples, individuals, and families, including service members in the air force, marine corps, or national guard. Those in the marine corps, air force, national guard, or those who are military spouses may all wish to receive mental health services or mental health care for a variety of reasons. Military veterans or service members of the marine corps, air force, national guard, and so on, might seek help for concerns such as anger management, behavioral health conditions, military family life or trouble navigating military and family life, issues related to military spouse employment, marital problems, and more. Military veterans or service members, including those in the marine corps, national guard, air force, have numerous health care resources available that they can use themselves or that a military spouse can benefit from. Military life is not easy, to say the least, and it can put a strain on your marriage, but help is out there.
Are marriage counselors worth it?
Statistically speaking, marriage counselors are most certainly worth it. Forms of couples therapy such as emotionally focused therapy (EFT) have a high success rate. Couples that receive EFT, as an example, have a 75% relationship recovery rate, and an even higher percentage of couples gain skills that they find useful even if they don't consider themselves to reach full relationship recovery. Generally, marriage counseling is short term, so if you are concerned about the time frame, don't fret. You can stay in marriage counseling for almost any duration of time, with health care costs (or the number of sessions covered for those involved in military family life) and other matters considered, and you and your spouse can always switch marriage counselors if you don't like the provider you're seeing.
What is marriage counseling before the wedding?
Premarital counseling is a form of counseling that couples get prior to a wedding. It's a short term form of counseling or therapy that you receive to help you and your partner get ready for life as a married couple. A military family may face unique circumstances, and premarital counseling with a licensed mental health provider can help you work through any questions or concerns you have before you tie the knot. Concerns that service members involved in the air force, national guard, marine corps, and so on, may face include concerns about family readiness, frequent moves and how they affect military family life, or conditions such as PTSD, depression, and anxiety. Just as service members, including those in the air force, national guard, marine corps, and so on, will get a different level of military pay based on their rankings, their lives will look a bit different, but many military families face similar concerns regardless. Navy fleet and family members also can be affected by these mental health conditions. Premarital counseling can be helpful for couples navigating military life, and if you are navigating military life, you will want to see someone who understands, so seeking medical counseling or non medical counseling through services meant to help services members, close family members, fleet and family support, or a military spouse is often a good place to start.
Can you go to therapy in the military?
You can seek therapy while in the military, though during deployment, your spouse may be the one meeting with your marriage counselor for a while. There are a variety of therapeutic resources for service members, including those in the air force, national guard, marine corps, and so on. Consider short term free counseling services for free non medical counseling such as the ones military onesource offers, or look into other health care options. If a military family needs help with concerns related to the military and family life or military life, they may seek counseling. For example, if you are a military spouse, you might seek individual counseling face to face or remotely while your spouse is away to serve in the air force, national guard, or another branch. Frequent moves and the anxieties that come with military family life or military life in general can be hectic and stressful, but often, there is no love quite like the love that exists in the life of a military family. Whether you are a military spouse, are related to service members such as those in the air force and another way, or if you are a military veteran yourself, there are health care and medical counseling or mental health counseling options available to you.
---
Previous Article
Find The Best Marriage Counselor For You And Your Partner
---
Next Article
The First Things To Do When Marriage Trouble Looms
---
This website is owned and operated by BetterHelp, who receives all fees associated with the platform.
The information on this page is not intended to be a substitution for diagnosis, treatment, or informed professional advice. You should not take any action or avoid taking any action without consulting with a qualified mental health professional. For more information, please read our
terms of use.