Frequently Asked Questions
Is there a thing such as caring too much?
Caring too much isn't about doing all it takes to accomplish a task or to provide solutions to a problem. Caring too much isn't when you go out of your way to make others happy unless it comes at the expense of your mental and emotional well-being. Being selfless is a good thing, and there is nothing wrong with wanting to please others when you can do so, yet there is always the risk that you may needlessly overextend yourself. When something you care about becomes detrimental to your happiness and health, it could be a sign that you may be doing a little too much.
What are the things you should care about?
Ultimately, this is for you to decide, but you should always prioritize things that don't put your health at risk. This means caring about the things you do and why you do them. Caring about the things you think about most often and the effect of these thoughts on your life. Increase your effort and your attitude towards exercises that help you gain enough control of your thoughts.
If you notice you spend a lot of time ruminating about the lives and actions of other people, you should consider changing your behavior. Do not allow your misguided concerns over someone's problems to derail your mental and emotional well-being. Learn to prioritize the inherent benefits that come with the things you care about and avoid those that leave you anxious and stressed.
Does having an anxiety disorder cause overthinking?
Being anxious is synonymous with worrying, and when we worry, it tends to be a result of thinking too much about a situation. While being anxious is a normal feeling to have in response to awkward situations, people who suffer from an anxiety disorder experience this feeling at a more constant and intense level with no sense of control.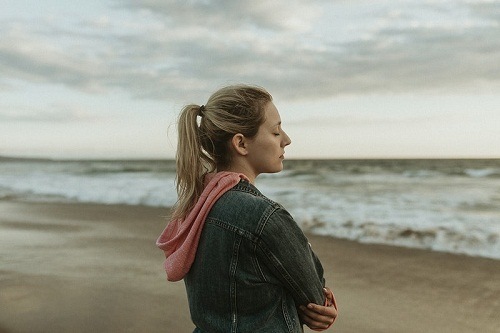 One of the many symptoms of an anxiety disorder is the tendency to overthink, and this can involve the most mundane thoughts to those serious enough to make you depressed. While overthinking is closely linked to anxiety disorders, you don't have to suffer from an anxiety disorder to overthink. However, if you suffer from an anxiety disorder, take comfort because it can be managed and treated.
What are things you can control?
There are plenty of things you can control in life, especially with the proportionate time and effort. You get to control your priorities and goals, and as an adult, you typically have much more control than you did as a child. Within reason, the things you can control often include but aren't limited to your own reactions, deciding where to live, deciding what clothes to wear, and deciding who you surround yourself with. You may not control what happens at work, but you can control choosing to wind down when you get home. Similarly, you may not control a situation where a friend is in pain, but you can choose to be there for them. If you're struggling, you might consider making a list of the things you can control, no matter how small or large they are.
How do you get over things you can't control?
Affirmations and positive self-talk are two great tools for those who want to spend less time fixated on what they can't control. You can't control how other people act, and there are many things we can't predict, but there are areas in life that we have the ability to control. It's often beneficial to redirect your energy from the things you don't have control over to the things you actually can control in life. Using affirmations, redirecting your focus, and self-talk helps you reframe your thoughts and shift your perspective in many cases. If you're struggling to spend your time thinking less about things you can't control, a therapist or counselor can help. It can be advantageous to have someone to talk to and support you as you work through your concerns and emotions, even when you have tools to cope with things you can't control. Regardless of what you're facing, you don't have to do it on your own.
When are things not in your control quotes?
Quotes about what to do when you can't control a situation can serve as an inspiration and often make excellent positive affirmations to use. Here are some quotes about control, quotes about when things aren't in your control, quotes about focusing on what you can control instead of what you can't, and quotes about things you can't control in life:
"You can't control the weather, but that doesn't stop some people from trying." - Frank Sonnenberg
"You can't control everything. Sometimes you need to relax and have faith that things will work out. Let go a little and just let life happen." - Kody Keplinger
"Life is to be lived, not controlled; and humanity is won by continuing to play in the face of certain defeat." - Ralph Ellison
"Never waste valuable time, or mental peace of mind, on the affairs of others; that is too high a price to pay." - Robert Greene
"You can't control other people's behavior, but you can control your responses to it." - Roberta Cava
"Love the life you live. Live the life you love." - Bob Marley
"Letting go doesn't mean that you don't care about someone anymore. It just realizes that the only person you really have control over is yourself." - Deborah Reber
"The more concerned we become over the things we can't control, the less we will do with the things we can control." - John Wooden
"The pen that writes your life story must be held in your own hand." - Irene C. Kassorla
"I learned long ago to focus on things you can control and don't even pay attention to things you don't." - Bryan Cranston
"Let it all go; see what stays." - Osho
"If you don't like something, change it. If you can't change it, change your attitude." - Maya Angelou
"Invest your energy in the things you can control." - Steve Backley
"We can't control everything in life, that's for sure, but we can reach out to the people we love to tell them we love and care about them." - Ken Blanchard
"We may not be able to create or control all of the events that impact our lives, but we can create and control our responses to everything that we experience." - Ilchi Lee
"Let go of the battle. Breathe quietly and let it be. Let your body relax, and your heart soften. Open to whatever you experience without fighting." - Jack Kornfield
"Some of us think holding on makes us strong, but sometimes, it is letting go." - Herman Hesse
"When you try to control everything, you enjoy nothing." - Unknown Author
"Don't worry about what you can't control. Our focus and energy need to be on the things we CAN control. Attitude, effort, focus; these are the things we can control." - Tim Tebow
"If you want the light to come into your life, you need to stand where it is shining." - Guy Finley
"Incredible change happens in your life when you decide to take control of what you do have power over instead of craving control over what you don't." - Steve Maraboli
Why do I worry about things I can't control?
It's common to worry about things you can't control. It's also very possible to work on this to worry about things you can't control less. Most of the time, when people worry about things they can't control, they don't like the projected outcome of the situation. When control takes control of you, it often has the unfortunate result of making a person feel more powerless, which is the opposite outcome a person wants to feel in control. Letting go and focusing on aspects of the situation that you can control, or at the very least, your reaction to the situation and the steps you take in life next can be very beneficial. For example, let's say that you have a family member who makes you feel bad about yourself no matter what you say to get them to stop. You can't control the fact that they make negative statements, but you can take control and focus on what you do in response. You may set boundaries, limit the amount of time you spend with them, walk away when they start to say something rude or distance yourself entirely. It can be empowering to remember that, as much as you can't control the road or the other drivers on it, so to speak, you are in the driver's seat when it comes to your own life. Most of the time, you won't be able to predict what's coming your way, and you won't be able to control every circumstance, but you are in charge of the moves you make in many cases.
What happens when you take control of your life?
When you focus your attention on aspects of your life that you can control (and healthy for you to control), great things can happen. While there are plenty of things you can't control in life, there are just as many that you can control in life. You can decide to make a career shift, set boundaries, put yourself out there to date or make new friends, move to a new geographical location, and so on. Often, people focus on what they can control in life and take control in those areas because they achieve things they've always wanted to. You can build a life you love when you take control of what you can control in life and let go of what you can't control. If you're having trouble making the leap and taking control of your life, therapy or counseling can help.