15 Couple Games To Play At Home
Updated April 11, 2021
Medically Reviewed By: Lauren Guilbeault
Having a date night is important in a relationship. For many couples, this means dinner, movies, dancing, and other activities around other people. Date night does not mean that you are required to go out. In fact, many couples have found that a date night at home is just as fun and possibly even more romantic than a date, among others. Staying home together means more alone time and improved intimacy.
Studies show that one-on-one time with your significant other develops a friendship that helps to carry the relationship through hard times. Laughing together or just enjoying time together does wonderful things for a relationship. Whether you are stuck at home while the kids are in bed or you feel like a night in, these are some of the best fun couple games to play at home.
1. Scrabble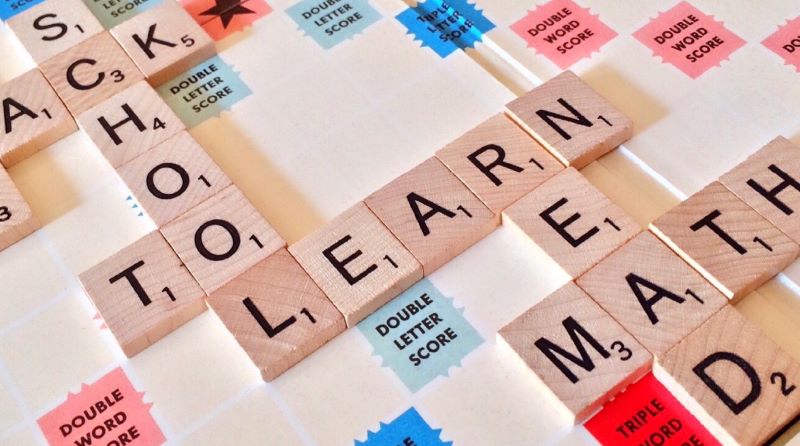 This website is owned and operated by BetterHelp, who receives all fees associated with the platform.
Source: pexels.com
There is a good chance that you haven't ever heard of a romantic game of Scrabble. However, by adding a rule, regular Scrabble can become intimate and romantic! Use your letter tiles to spell out romantic words only. These words can vary from couple to couple but might include hugs, caress, or snuggle. If you enjoy the regular version of Scrabble, that's fine, too! The important thing is that you are having fun together.
2. Twister
Few adult couples play Twister after the kids have gone to bed, but it can be a great game to start an evening of intimacy and laughter. An awkward game with strangers or acquaintances would be far more entertaining with just you and your significant other. Add some fun music and a bottle of wine to your night, and you've got a great date activity!
3. Would You Rather
You have probably heard of this popular game. It is great for passing the time and fun to see which of two bad choices your significant other would choose. Some questions include, "Would you rather ride a bike to work in 6 feet of snow or have no air conditioning in 120-degree weather?" or "Would you rather see the world's worst movie or attend the world's worst concert?" This game also gives insight into the person asking the question, as you can learn a lot by what they find unenjoyable.
4. Minute To Win It
If you haven't heard of this popular game show, it involves various activities that the participants must complete within a minute. There are so many options for activities with this game, many of which are sure to make you laugh. One of the most popular games is to place a cookie on one player's forehead. Without the use of his or their hands, they must get the cookie into their mouths. The other person must time them and then switch. Make it fun by giving the winner a prize, such as choosing what to do for the next date night.
5. Cards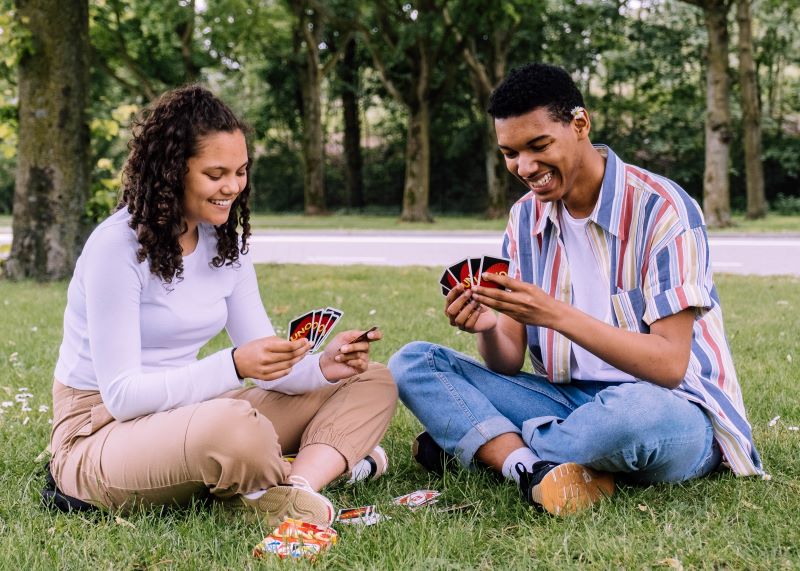 Source: pexels.com
There are so many options for two-player card games! War, Rummy, and Speed are just a few. If you and your significant other enjoy playing card games, try out a night of fun with these old-school games. They are great for a relaxing date night at home, so grab a beer, find a seat at the table, and play!
6. One On One Newlywed Game
Like the classic game show, The Newlywed Game entails a question and then comparing each half of the couple's answers. For example, the question might be, "What is Player 1's favorite color?" Both players would write down the answer on their paper, then show it to one another. This game shows how well the couple knows one another. With just the two of you present, the questions can get more personal and intimate without getting uncomfortable.
7. Taste Test
This game is a great dessert game! Get an assortment of foods and items from your pantry and fridge without showing your significant other what you've retrieved. Blindfold them and have them guess the items that they are tasting. Some great options include chocolate chips, strawberries, and potato chips. You could even attempt to confuse your partner by crumbling the potato chips or slicing the strawberries.
8. Art Competition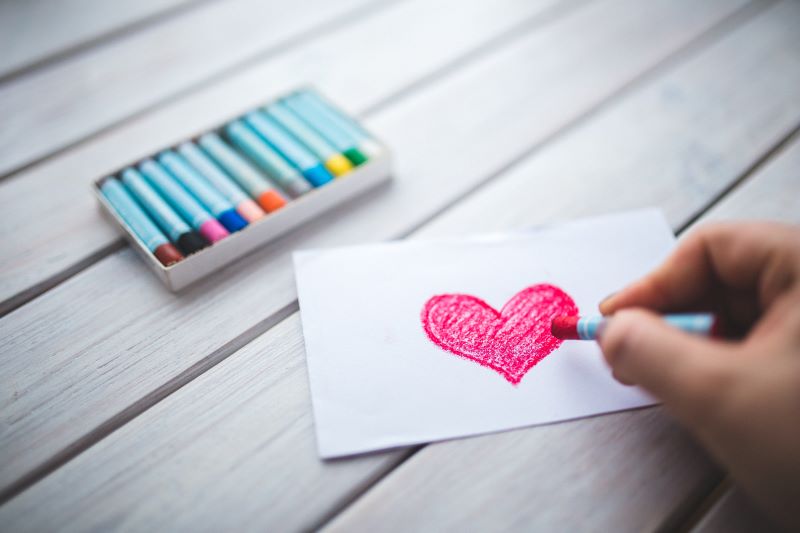 Source: pexels.com
In a Pictionary-esque attempt, give each half of the couple art supplies. Then, have each person draw a subject from a hat. If neither individual is artistically talented, try to fill the hat with simple things, like fruit or planets. Couples that are more artistically inclined might have more complicated subjects. They are to keep the topic a secret and create their art facing one another - typically, an easel will keep the other from seeing what they are doing. Once complete, have the other attempt to guess what the art is supposed to be. This can be even more entertaining if wine is involved.
9. Mad Libs
Mad Libs were hugely popular in childhood, so why not bring it into your relationship as an adult? Mad Libs now has adult versions that give more age-appropriate stories. Pick up a Mad Libs book and spend an evening of laughter with your significant other. Be creative with your word choices, and enjoy it.
10. 21 Questions
Get to know your partner even better with this popular question game. Ask one another 21 questions. Although classic forms of the game require a person to pick a subject and the other person tries to figure it out within 21 questions, a couple's version can be done by asking personal questions to your partner. Either version can make for a fun evening!
11. Trivia
If you and your partner share a sense of competitiveness, trivia might be a fun couple game to play at home. There are a variety of ways to play two-player trivia, from apps to actual board games. Get competitive and show off your smarts with an hour or two of trivia! You and your significant other are sure to have a great time going head to head. Make it more competitive by adding prizes and incentives to the game.
12. Jenga
When looking for a couple of games at home, there can be much fun had with Jenga. While you can play with more than two players, having a good time with just your partner is great. There are so many Jenga styles on the market today, so you are sure to find a version that you both love. There is a fun version for your relationship from Jenga Giant to Jenga Boom and even the game's classic form.
13. Mario Kart
Bring game night into the modern world with a Nintendo console and Mario Cart. This game gets players worked up and laughing with ease. It is hard to play Mario Kart and not have a good time! Even though many video games cause problems in a relationship, playing one together can be fun. Spend an evening at home with your partner playing this video game and make fun memories that last.
14. Scavenger Hunt
It might seem silly to do a scavenger hunt in your own home, but it can be very fun! There is a variety of household item scavenger hunts to be found on the internet. Print off a few and make it a competition to find the items before your significant other. You might avoid reading hunt clues or have someone else print them for you so that you and your significant other have the same advantages. This game takes "Honey, where's the…" to a whole new level.
15. Pandemic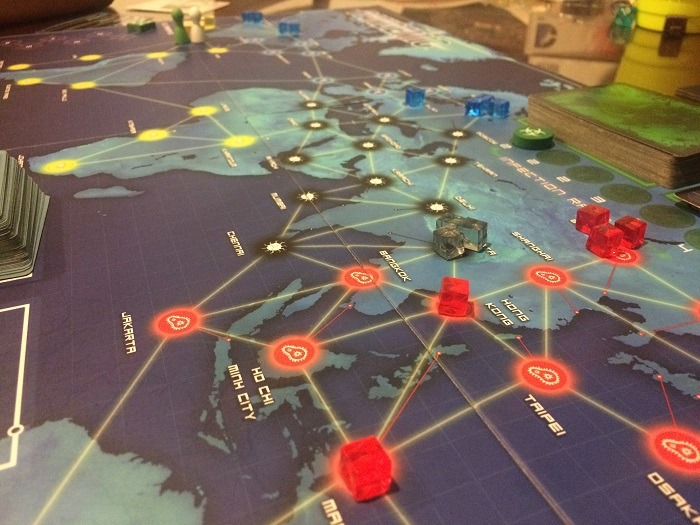 Source: en.wikipedia.org
You may have never heard of this board game, but it is sure to be a game night favorite. The premise of the game is to work together to eradicate widespread disease across the globe. Although this game is great for a couple of game nights, it can be played with 2-4 players. This means it will fit right in with family game night as well! The cooperative style of the game removes a sense of competition but encourages teamwork and communication amongst players.
Have Fun At Home!
A fun couple of games make great date nights at home. Whether you're thriving in your relationship or currently struggling, the game night can bring additional fun and laughter into your lives. Relationship counselors often recommend regular date nights and one on one time. Couple games at home are just one of many ways to have a date night on a budget or while your kids are sleeping in the evenings.
Maybe it has nothing to do with kids - you could be snowed in, or maybe you aren't getting enough alone time. No matter what it is that has led you to a couple of game nights at home, find one that both you and your partner will enjoy. Having fun together is a great way to strengthen your friendship and romantic relationship. Professionals agree that enjoying time together is essential to a truly successful relationship. Without it, couples can find troubling times harder than they have to be.
---
Previous Article
8 Ways Couple Workout Goals Help Relationships
---
Next Article
Conversations To Have with Your GF Before You Propose
---
The information on this page is not intended to be a substitution for diagnosis, treatment, or informed professional advice. You should not take any action or avoid taking any action without consulting with a qualified mental health professional. For more information, please read our
terms of use.