Best Ideas And Samples Of Engagement Photos
Updated May 13, 2021
Medically Reviewed By: Karen Devlin, LPC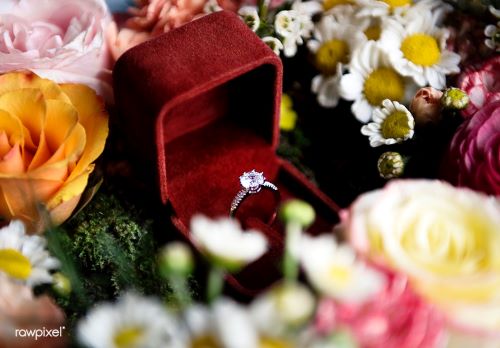 Source: rawpixel.com
You've met The One, and the two of you are planning to get engaged. It's a special occasion, so doing a bit of planning for photos beforehand will be time well spent. Whether you prefer to keep the engagement photoshoot separate or whether you're throwing a party and want the photographer to take photos throughout the event doesn't matter. What matters will be the memories captured. Be sure to make them special.
Following are a few excellent ideas and samples to help you take home frameable and beautiful engagement photos. Discuss your ideas with your designated photographer and show them the samples of your favorite engagement pics. This way, you're far likelier to get what you want from the photoshoot.
Engagement Photo Ideas
You and your partner can show your creativity and unique personalities using all the components of the photoshoot. These include but are not limited to location, mood, theme, props, and poses.
Unusual Or Traditional Locations: The location is important, but a white wall photoshoot in a professional studio can make for excellent photos, too, if the photographer is skilled. The idea is to capture the two of you looking happy and comfortable together, no matter what backdrop you choose.
Depending on the photographer's ability and experience, some unusual locations can make dramatic and gorgeous shots. These include taking photos:
at a train station; an airport; on a stage; at a building site;
on a vintage car show floor; on a rooftop; in a treehouse;
in a cave; a cozy coffee shop;
at a petting zoo; underwater; in a crowd;
at a funfair, in a floating hot air balloon, at a music concert, and many more.
Other more traditional locations include taking shots:
on a mountain or hill; in the waves or on the beach; in a beautiful garden, nursery or flower bed; in a dry riverbed; by a waterfall or near a natural body of water;
in an art gallery; at a heritage site; in a cathedral, church, or museum; on a balcony and in the door and window frames of an old building; on or under a bridge;
in a train (stationary or moving); on a boat at sea or on a river;
in a game resort; in the desert;
at a landmark such as the Eiffel Tower in France, the Burj Khalifa in Dubai, the Tower of London or the London Wheel in the UK, the Statue of Liberty or Central Park in New York, the Grand Canyon, etc.;
on a horse farm, in a barn, in front of mirrors and large windows, etc.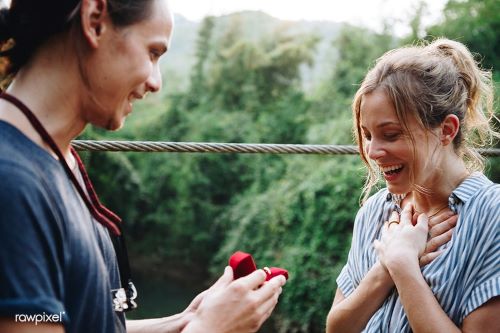 Source: rawpixel.com
Don't be afraid to be creative with your choices. Also, remain open to the photographer's suggestions, as they are likely to know the ideal spots. You will help them choose a suitable location by knowing exactly what mood and atmosphere you want in the photos.
Mood: The mood is the atmosphere you want to create in your engagement photos. This will need some thinking and planning and will depend mostly on your partner's personalities and personal taste. The mood links closely to style, so consider the following moods or atmospheres:
opulent, dramatic, and theatrical;
romantic, vintage, and soft focus;
polished, crisp, and abstract;
carefree, natural, and relaxed;
unusual and creative, or
a combination of two or more styles.
Spring engagement photos will look stunning in a cherry orchard or any blossom-filled environment, while snow or a dry grassland will do justice to winter engagement photos. Summer engagement photos will look best in a green and lush natural setting with fruit trees depicting the season's opulence - think of grape-bearing vines or whatever fruit is in a season where you live. Make sure to dress according to the season if this is the mood you aim for.
The season, time of day, and weather are also likely to determine the atmosphere in the photos - sunrise or sunset, in the wind, rain, or sunshine will all make for excellent photos. Black and white and special effects such as colored and uniquely positioned lighting, or wind from a fan, etc., can make for wonderfully atmospheric shots too.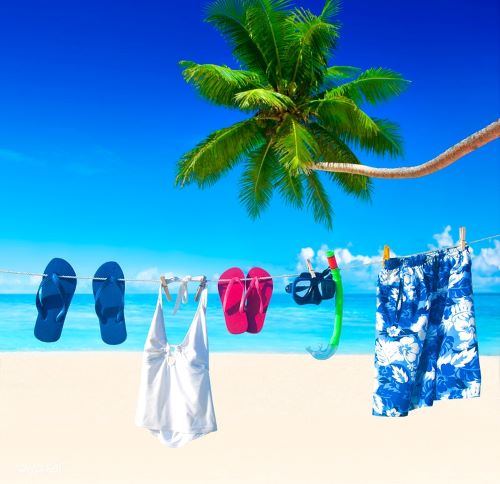 Source: rawpixel.com
Theme And Props: If you're leaning more towards a creative photoshoot, having a specific theme will help a lot. This could offer clear guidelines regarding costume, decor, makeup, and hairdressing, as well as the props you should use. If you share a passion for movies or the theatrical, think of choices like:
Game of Thrones; Gone with the Wind; Star Wars;
Cosplay;
Halloween; Cowboy and Cowgirl; Fairy and Fantasy, Princess and Prince;
Laurel and Hardy; Mythology; Famous Movie Stars;
Hip-hop; period or national costume; your favorite cartoon characters, comedy;
Goth or emo, and so forth.
If you share a specific hobby, like ballroom dancing, photography, cycling, art, or even reading, including this in your theme could make for meaningful, personal photos.
You could also decide to have a color scheme, such as monochrome, chiaroscuro, two-tone or contrasting colors, or a riot of all colors and shades.
If you don't prefer any specific theme, think of taking along props like:
umbrellas, top hats, sunglasses, scarfs, black jackets or coats, high-heeled shoes;
candles, lanterns, an enormous bunch of flowers, wine glasses, and a bottle of wine (Actually drinking it could help the models relax!); wigs, masks, and so forth.
These could add a special touch and character to any picture and stimulate the flow of creative juices. The photoshoot, ideally, should be a fun game to play in front of the camera, which could make for beautifully spontaneous photos, even more so if the photographer is skilled.
A theme or props will also guide you regarding what to wear for engagement photos. There is no specific dress code, but a good tip would be to choose something comfortable. A proper photoshoot can take two hours and longer, and the discomfort of wearing ill-fitting clothes will show on your face after a while.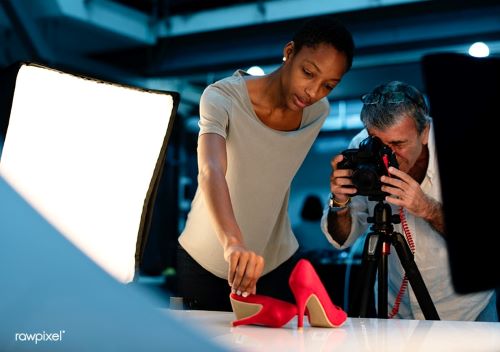 Source: rawpixel.com
Poses: A good professional photographer will guide you expertly regarding what works best in front of the camera, but you can make your suggestions for poses. Think of photos with the following poses:
The two of you lying down on different surfaces, sitting backward on chairs, sitting on each other's lap or back-to-back, sitting close to one or among many candles, next to a campfire or lantern;
Posing in unusual spots such as a shallow pond or a stream;
Standing on your heads or in yoga poses; posing in a tree;
Hugging and kissing each other and hugging trees or animals.
If the photographer is an expert in movement photography or photoshoots in uncommon environments, consider photos of you two swimming underwater in a swimming pool; dancing; wrestling; arm wrestling, tickling each other, horse or ostrich riding, the list goes on. In other words - the aim is to have fun and let it show simply.
The most stunning photos are often taken when the models are unaware of the camera for a moment, no matter how stylized and choreographed the photoshoot. This is what you want to achieve for memorable and unique engagement photos. Aiming for funny engagement photos are also likely to help you relax and laugh a lot. If you have special features like tattoos or unusual piercings, be sure to have them included in the shots, and remember to take photos of the ring.
Engagement Ideas From World Class Photographers
For inspiration, think of exploring the portfolios of famous photographers such as:
Annie Leibovitz
Diane Arbus
Mario Testino
Patrick Demarchelier
Alexey Titarenko
Julie Blackmon
Steve McCurry and even Roger Ballen, for a touch of the absurd
From this list alone, you are sure to garner excellent tips for once-in-a-lifetime engagement photos. Don't focus on these photographers' subject matter, but rather look for photographic effects, lighting, poses, and atmospheric styles that appeal to you. Then take a selection of photos that illustrate best what you want, and discuss this with your photographer before the shoot.
Samples Of Striking Engagement Photos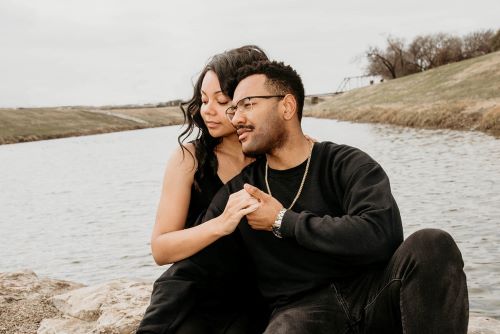 Source: pexels.com
Couples' Therapy
If you're having more and more relationship problems as your wedding day approaches, relax. This is a pretty common phenomenon. If your differences and conflict become worrisome, though, it may be good to consult with a registered counselor or therapist for some guidance. ReGain offers specialist and online couples or individual therapy, and our therapists are uniquely qualified to help you deal with any pre-wedding stress or relationship conflict.
---
Previous Article
Getting Engaged? Things You Should Discuss
---
Next Article
Creative Ideas And Quotes For A Special Engagement Announcement
---
This website is owned and operated by BetterHelp, who receives all fees associated with the platform.
The information on this page is not intended to be a substitution for diagnosis, treatment, or informed professional advice. You should not take any action or avoid taking any action without consulting with a qualified mental health professional. For more information, please read our
terms of use.