Creative Ideas And Quotes For A Special Engagement Announcement
Updated February 18, 2021
Medically Reviewed By: Chante' Gamby, LCSW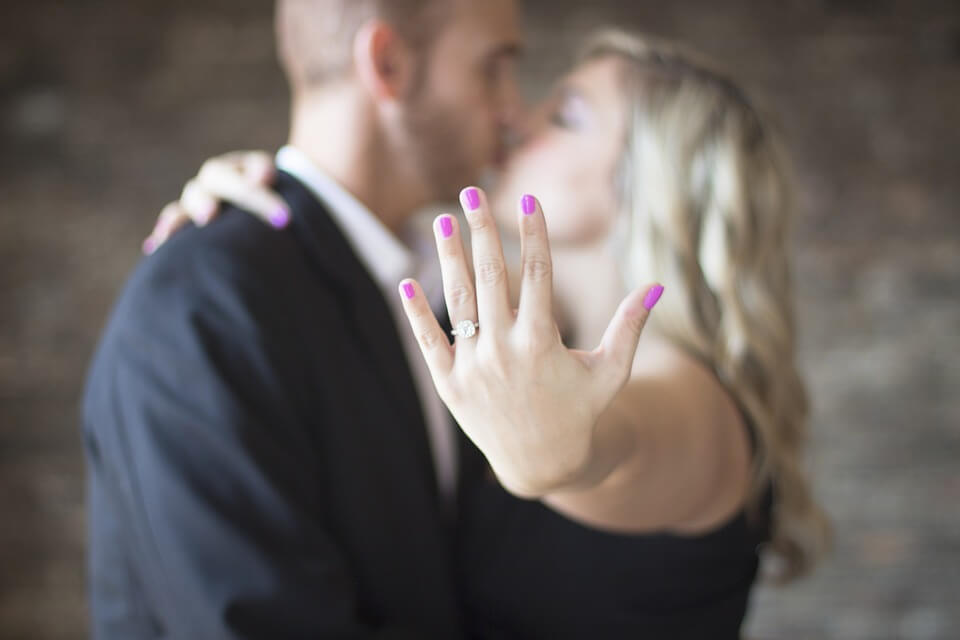 This website is owned and operated by BetterHelp, who receives all fees associated with the platform.
Source: maxpixel.net
If you are looking for something more creative than the classic holding hands or kissing photos for engagement announcement ideas, you've come to the right place! Many couples use creative, novel ways to announce their engagement, and rightfully so! It's a happy, uplifting occasion that should be shared with the world in a way that conveys your love for each other. Using engagement quotes can help show the world that you are ready to spend the rest of your life with your true love.
The following are a selection of creative ideas and quotes for a really special engagement announcement.
Engagement Announcement Ideas
The most popular way to announce an engagement is by using creative photos that you can upload to social media, print cards with, or send to people electronically via email, phone apps, etc. You can source these from your engagement photo selection, or you can organize a special photoshoot for this purpose alone. Add to the picture's creativity with special effects, black-and-white photos, ambient lighting, etc. to make it stand out. If you really want to cultivate a couple's aesthetic, developing engagement announcement ideas now can help later on with your wedding website. Here are a few ideas for creative photo announcements. And for the ladies, don't forget to check in with the groom to be's opinion!
Cute Pet

: These are fun ways to announce your upcoming nuptials. Let your pet announce the engagement with a placard around his or her neck. Keep the text on the sign short and striking; read on for a list of amazing engagement announcement quotes for just this purpose. Take pictures of your pet alone, and with you and your fiancé in it too. Alternatively, consider different angles and effects, such as stacking your hands and paws together, or putting the ring on your pet's nose.

Movie Poster:

For super original engagement announcement ideas, customize a movie poster template using your best engagement photo, and an online poster-creating tool such as Canva, Adobe Spark, or Postermywall. Be creative in the wording, or customize an existing movie or TV series' title and slogan.

Body Parts

: Write 'I said Yes' on the back of your fingers (a letter for each finger) and took a photo of your fists together. Or, one can write: 'I asked,' and the other 'I said Yes.' You could also write your announcement on the palm of your hand, and take a photo of the two of you kissing in the background with your arm stretched out, and your palm right in front of the camera lens. For the brave - shave an announcement into your beard!

Cell Phones

: A popular announcement idea is also to take photos of each other on your cell phones. Then take a photo of the two of you together, each holding their cell phone in front of them with the photo of the other towards the camera. Play this way with other images such as the ring, a text message, etc.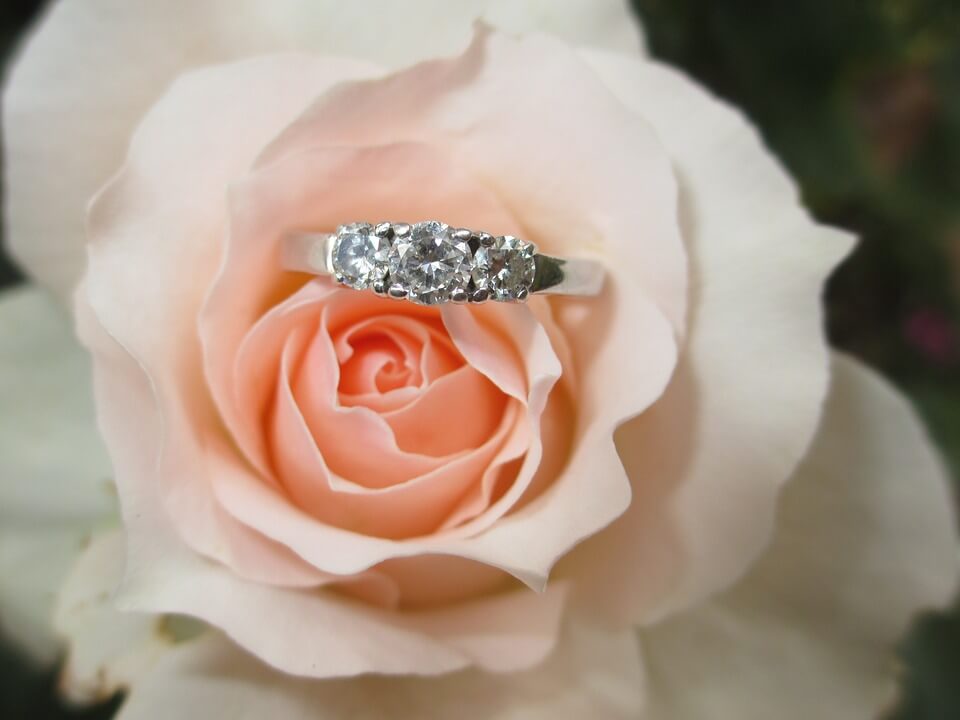 Source: pixabay.com
The Ring

: Take a creative photo using the engagement ring, such as drawing a little smiling face on each partner's ring fingertip on the cushion side, or on the nail. Then position the engagement ring on the receiving partner's finger, hold your fingers together and let the image speak for itself. Also, take a photo through the ring, or place the ring somewhere unusual, like on top of your pet's head.

Funny Pictures

: Think of pictures of playful and funny scenes, such as role-reversal. This would include the bride-to-be who had her fiancé hanging upside down from a heavy-duty vehicle. The caption was: "The hunt is over." Of course, she poses with a hunting gun in the front. Another good role-reversal scene would be with the two partners on a couch - him reading a wedding magazine, and her holding the gaming controller. Also, think of playing with Before-and-After pictures, Dream Reality, Us vs. Them and so on.

Groundwork

: Consider a perspective photo. Do you like making art? These are cool engagement announcement ideas for those with an artistic knack. With chalk or watercolor paint, write your announcement in large letters on the floor or the tarmac in a car park or similar large space. Then lie down and position yourself to create a tableau on the ground. For instance, draw a picture of balloons on strings, and then lie down, so it looks as if you're 'holding' the strings. The photographer needs to take the shot from a higher position for the picture to make sense.

Graphics:

If you're good with editing, use those skills for a cool announcement idea! It will take a few more planning tools, but you can use graphic design to alter digital photos and add or superimpose your photo, announcement, etc. onto anything, such as:




A movie house neon sign (Take a photo of the two of you in front of it!)
A Tarot card
Your Star signs
A large road sign or advertising billboard (again, with the two of you in front of the real thing)
A book or CD cover
A product label (imagine the wordplay possible on a hot chocolate tin. Or a vacuum cleaner)
Art of romantic lovers, such as Gustav Klimt's 'The Kiss,' Rodin's famous 'The Kiss' statue, 'Springtime' by Pierre-Auguste Cot, 'Kiss by the Hôtel de Ville' by photographer Robert Doisneau, or Renoir's 'Danse à la '
Mugshot-style with you and your partner holding a sign with the announcement
Famous movie scenes (source photos from the web)

Take photos with you enacting or creatively depicting a saying or a famous quote, such as 'Tying the knot', 'Slave to love', 'Madly in love', 'It feels like home to me'; 'You had me at hello'; 'Every pot gets its lid', 'You're a gem', and so forth.
Engagement Announcement Quotes
Feeling overwhelmed to think up engagement announcement ideas on your own? Fear not! There are plenty of ways to share your love and excitement using quotes. Use any of the following quotes on love, engagement, and marriage on your photos or in an engagement announcement card.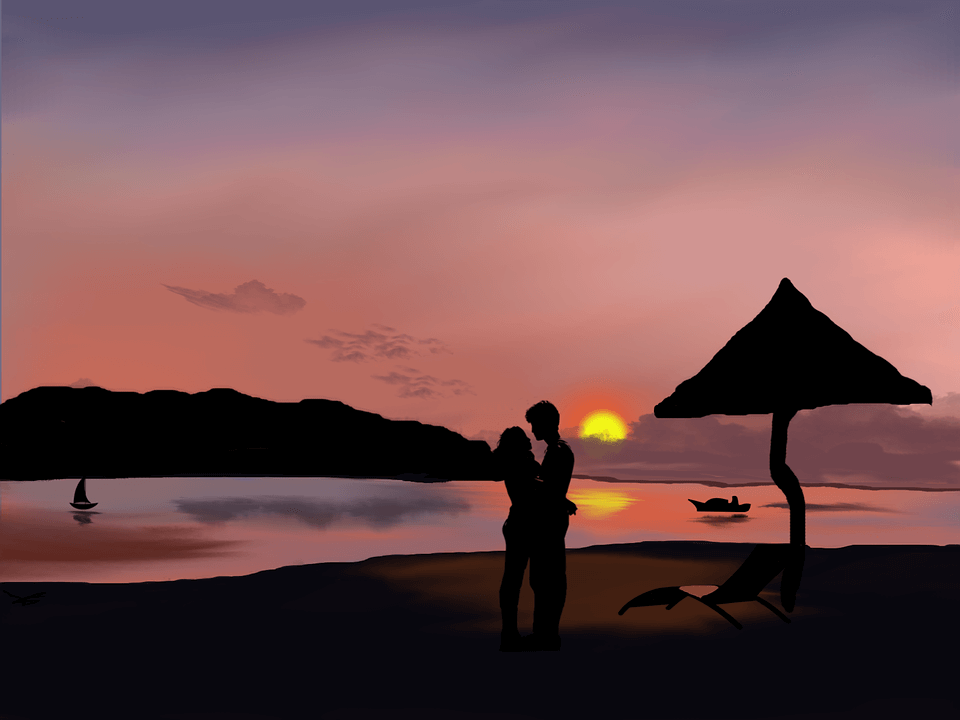 Source: pixabay.com
My humans are getting married, or My humans got engaged. (Good for an announcement by a pet)
Being deeply loved by someone gives you strength while loving someone deeply gives you courage. - Lao Tzu
There is only one happiness in this life, to love and be loved. - George Sand
You've gotta dance like there's nobody watching,
Love as you'll never be hurt,
Sing like there's nobody listening,
And live like its heaven on earth. - William W. Purkey (A crowd favorite engagement quote).
You know you're in love when you can't fall asleep because the reality is finally better than your dreams. - Dr. Seuss
I fell in love the way you fall asleep: slowly, and then all at once. - John Green, Fault in Our Stars.
I love you without knowing how, or when, or from where. I love you simply, without problems or pride: I love you in this way because I do not know any other way of loving but this, in which there is no I or you, so intimate that your hand upon my chest is my hand, so intimate that when I fall asleep your eyes close. - Pablo Neruda
There is never a time or place for true love. It happens accidentally, in a heartbeat, in a single flashing, throbbing moment. - Sarah Dessen, The Truth About Forever
I'm in love with you, and I know that love is just a shout into the void, and that oblivion is inevitable, and that we're all doomed and that there will come a day when all our labor has been returned to dust, and I know the sun will swallow the only earth we'll ever have, and I am in love with you. - John Green, Fault in Our Stars.
Love looks not with the eyes, but with the mind,
And therefore is winged Cupid painted blind. - William Shakespeare, A Midsummer Night's Dream
Doubt thou the stars are fire;
Doubt that the sun doth move;
Doubt truth to be a liar;
But never doubt I love. - William Shakespeare, Hamlet
Our weirdness is compatible, so we've decided to keep each other. - Anon.
If I had a flower for every time, I thought of you…I could walk through my garden forever. - Alfred Tennyson
I have a million things to talk to you about. All I want in this world is you. I want to see you and talk. I want the two of us to begin everything from the beginning." - Haruki Murakami, Norwegian Wood
Just when you think it cannot get any better, it does. We're engaged! - Anon
One is loved because one is loved. No reason is needed for loving. - Paulo Coelho, The Alchemist
So, I love you because the entire universe conspired to help me find you. - Paulo Coelho, The Alchemist
In vain have I struggled. It will not do. My feelings will not be repressed. You must allow me to tell you how ardently I admire and love you. - Jane Austen, Pride And Prejudice
You are, and always have been, my dream. - Nicholas Sparks, The Notebook
Where there is love, there is life. - Mahatma Gandhi
Nobody has ever measured, not even poets, how much the heart can hold. - Zelda Fitzgerald
Whatever our souls are made of, ours are the same. - (Adapted) Emily Brontë, Wuthering Heights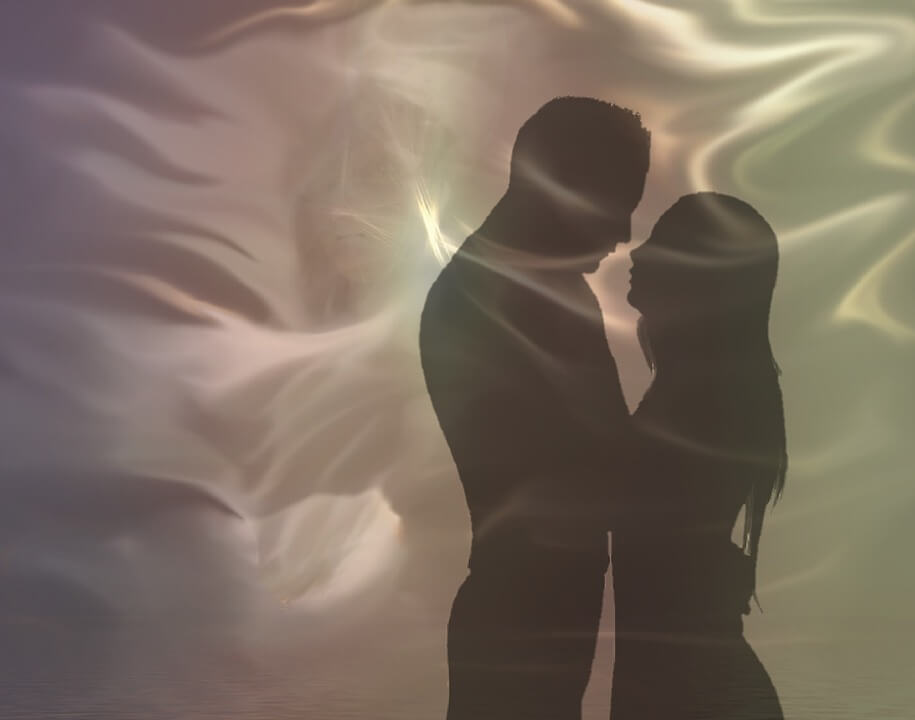 Source: pixabay.com
Once upon a time, there was a boy who loved a girl, and her laughter was a question he wanted to spend his whole life answering. - Nicole Krauss, The History of Love
The best love is the kind that awakens the soul and makes us reach for more, that plants a fire in our hearts and brings peace to our minds. And that's what you've given me. That's what I hope to give you forever - (Adapted) Nicholas Sparks
We love with a love that is more than love. - (Adapted) Edgar Allan Poe
Every heart sings a song, incomplete until another heart whispers back. Those who wish to sing always find a song. At the touch of a lover, everyone becomes a poet. - Plato
What was meant to be has found a way. - (Adapted) Trisha Yearwood
When the heart speaks, the mind finds it indecent to object. - Milan Kundera, The Unbearable Lightness of Being
Love is the longing for the half of ourselves we have lost. - Milan Kundera, The Unbearable Lightness of Being
If you can love someone with your whole heart, even one person, then there's salvation in life. - Haruki Murakami, 1Q84
A Note on Couples Therapy
The first flush of love is bound to pass, and in its place, you could find yourself burdened with sudden relationship issues. Married life can certainly be exciting, but that does not mean it's always easy. But that doesn't have to mean your relationship is over. For online couples or individual therapy, anytime and anywhere, consider connecting with a ReGain therapist to recapture your first love.
Frequently Asked Questions (FAQs)
How do you announce that you are engaged?
There's a lot of pressure to think of the best engagement announcement ideas. If you want a big reveal but you're feeling stressed over ways to announce, maybe announce your engagement to your close family and friends first, and they can help you think of a cute engagement announcement that is tailored specifically to you!
How do you announce engagement on social media?
There are so many ways to share your newly engaged life! Don't feel rushed to post on every single social media platform right away. Engagement announcement ideas can vary based on where you're posting so maybe choose the platform you use the most, and just focus on that. Word will spread, no doubt!
How do I subtly announce my engagement?
Not everyone is into a big reveal. If you want to play it more subtle, there are engagement announcement ideas that don't have to hone in on the "announcement" side of things. Just telling your close family and friends is perfectly acceptable.
What should I caption my engagement photos?
There are a few things you need to decide about your engagement announcement ideas — are you going to have a themed engagement announcement? Will you use engagement quotes? Many people love using a cute couple name as a hashtag to share their wedding related content. Or, if you don't want a themed engagement, you can always consider doing a long loving caption, or a short and sweet one. Depending on photos — if you're holding hands or kissing, you can make a caption based on that as well. No matter which way, stay true to yourself!
How soon after getting engaged should you set a date?
Picking a wedding date is a big decision. There is no right answer to how quickly you should choose your wedding date after getting engaged. Of course, it's important to do far enough in advance if you want a certain venue, or if you are sending wedding invitations, and especially if you want a destination wedding. A good rule of thumb is: the bigger the wedding, the sooner you should decide. One step at a time though, focus on your engagement announcement ideas before skipping straight to the big day! You'll have plenty of time to think about wedding ideas, and even maybe get the chance to do a wedding website!
What is a wedding website?
Wedding websites can be a great planning tool to keep all things bride and groom related in check. Maybe you already have a Pinterest board for wedding ideas — color schemes, wedding dresses, wedding cakes, etc. It's a virtual platform for you to share information with your guests, and make RSVP, and food selections super quick and easy. Play around with your announcement idea! That way when it is time to send the invites, you'll have everything ready to go.
Should I announce my engagement on Facebook?
Facebook gives a few engagement announcement ideas, including the option to share your relationship status anyway! Whether you've chosen to use that option in the past or not, it's super easy to switch it to "you're engaged!" It doesn't have to be a big reveal if you don't want it to be. That said, if you're an active Facebook user, it might be nice to go ahead and announce on Facebook. Talk to your partner, if either of you care to share the engagement on Facebook — go ahead!
Is it tacky to post your engagement ring on Facebook?
What is considered "tacky" is totally subjective. If you are worried about boasting, maybe it's just not your style to post the ring — and that's totally fine. Work within your comfort zone, don't worry about what other people think. If you want to flaunt that ring, go ahead, girl!
What do you write in engagement post?
A good way to consider engagement quotes or an engagement post to express your true love is simply taking the time in advance. Don't rush to post- consider the best caption for a while. Once you have thought about it for a bit, then you can think of something that is true to you and your partner's personality. IF you want to get a lot of likes, the best captions are usually short, sweet, and clever.
Ways to announce completely vary based on the person. Your announcement ideas should be specific to you and your relationship. Be sweet, be silly, be excited, just be you!
Some people opt for engagement quotes and poems. They may use words and phrases such as:
I can't wait to spend the rest of your life together

Falling in love is easy when you find the person to begin my eternal love

A whirlwind romance with the person who will love you forever is the greatest love story

This engagement marks the spot of true love

A whirlwind romance and beginning of love true love

I love that I could find someone whose weirdness creates a mutually satisfying weirdness

The contact of two chemical substances is the meeting of two personalities

True love is the beginning of an eternal love story

I cannot wait for life to start in the arms of my lover for life

I'll choose always to fall into mutually satisfying weirdness with my one true love

In my ear you whispered that I am your true love

Pause without a doubt in a heartbeat, call it love true and endless
Engagement quotes and love quotes can be a demonstration of mutual reaction both are transformed through.
---
Previous Article
Best Ideas And Samples Of Engagement Photos
---
Next Article
What Pre Marital Courses Mean For You
---
This website is owned and operated by BetterHelp, who receives all fees associated with the platform.
The information on this page is not intended to be a substitution for diagnosis, treatment, or informed professional advice. You should not take any action or avoid taking any action without consulting with a qualified mental health professional. For more information, please read our
terms of use.