Consider These 12 Kinky Things To Try If You Want A More Fulfilling Sex Life
Updated March 19, 2020
It's important to try to have the best sex life that you can. If you put more effort into things in the bedroom, then it is going to lead to a more fulfilling life overall. Keeping your partner happy while also satisfying your own sexual needs makes sense. The problem is that many couples kind of get stuck in a sexual rut. Perhaps you have been doing the same things for many years, and your sexual routine has become stale and pedestrian. It's possible to make things more interesting by simply trying out some new kinky things in bed.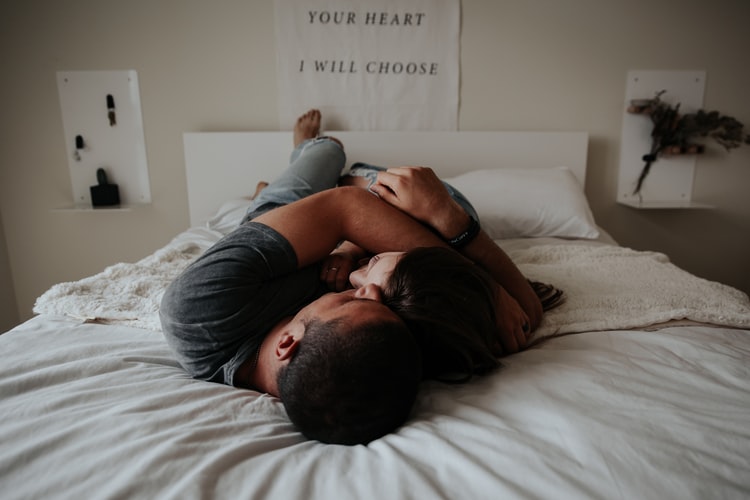 Source: unsplash.com
Consider these twelve kinky things to try if you want a more fulfilling sex life listed below. Some of these sex acts and ideas might be just what you need to get interested in sex again. There are many different options to consider, and not every single one of them will be for you. Just take the time to read them over and think about whether you and your partner would be interested in trying them out. It could lead to some very satisfying and steamy moments between you two. As long as you approach this subject with an open mind, you should be able to have fun with it.
Sexual Role-playing
Many couples have kinky ideas that are just floating around in their heads. Perhaps you have a particular scenario that really gets you going. Many people have ideas that sound hot, but they will never really be able to act them out. That doesn't mean that you can't role-play the scenario with your significant other. Sexually role-playing has the potential to be very satisfying. You can live out some of your deepest fantasies in a safe way.
There are many examples of sexual role-playing that you could try out just to get started. For instance, some couples like to role-play as a sexy nurse and a patient. Others might be interested in role-playing some student and teacher scenario. It is up to you to decide what type of sexual role-playing you are interested in. Let your imagination run wild and try to make the most of it.
Watch Porn Together
You might need a little bit of motivation to get your sexual engine revved up properly. Watching the kinky things that people do in porn is a good way to get yourself, and your partner turned on. You could watch porn with your partner in bed to get in the mood. Once you start to get turned on, you could attempt to reenact the sex acts that you see in the video that you're watching. Many couples watch porn together, and it helps them to find new kinky things to do in the bedroom. Give it a shot if you need some sexual motivation.
Dress Up In Sexy Outfits
Dressing up in sexy outfits will make you and your partner feel way more turned on than usual. This could mean several different things, depending on your perspective. You could decide to dress up in lingerie or other types of sexy clothes that will get your partner going. This can be very erotic, and it can help to set the mood for a fulfilling night of sex. Some couples might be interested in dressing up in other types of fetish outfits that will turn their partners on.
You could even combine dressing up in sexy outfits with the idea of sexual role-playing. This could lead to you buying a sexy nurse outfit or donning a lab coat so that you can play doctor. Just let your imagination go crazy, and don't be afraid to get kinky with your lover. It will lead to a more satisfying sexual encounter than usual, and it's very easy to dress up. This doesn't take a lot of effort, and it's something that even fairly vanilla couples can get into.
Dancing And Stripping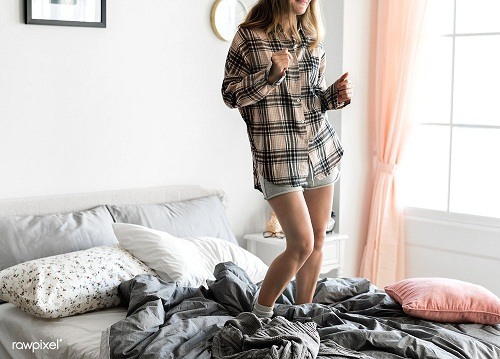 Source: rawpixel.com
Dancing and stripping for your partner during foreplay could be a huge turn-on as well. There are quite a few men and women who get turned on by going to gentleman's clubs. Seeing the girls on the stage dancer and showing off their bodies can be a sight to behold. You can reenact this same type of scenario in your bedroom. Put on a little show for your partner and strip down to your unmentionables. Don't be afraid to make your striptease a little bit risqué since the object is to turn your partner on as much as possible. It's just a bit kinky, and it's something that you can bust out to make a night of sex a bit more fun.
Anal Sex
Have you ever considered trying anal sex? Obviously, this isn't going to be something that everybody is interested in trying out. Some people will be completely opposed to the idea and others will be quite intrigued. Many find this type of sex to be pleasurable, and it could lead you to discover a new sexual pleasure that you never knew before. It might take some experimentation to get it right, but it could be worthwhile for people who want to get a bit kinkier than usual.
BDSM
The popularity of BDSM continues to rise, and it is likely something that you will be interested in looking into. This type of sexual relationship turns a lot of people on. It can involve one partner being dominant over the other. You've probably seen such relationships portrayed in popular movies. You don't have to delve completely into the lifestyle to enjoy a bit of light BDSM fun, either. Even just tying your partner up and enjoying her or him could be a very good time.
A bit of light bondage is a very easy kinky bedroom act to pull off. You could use old scarves as ties for your partner's wrists if you want to. Many like to blindfold their partners using a typical sleep mask, as well. Just remember that these encounters need to be safe and that your partner needs to be willing. If your partner wishes to stop at any time, then you need to stop what you're doing. Talk about limits before entering into any BDSM-related sexual encounter.
Orgasm Control/Denial
This kinky thing to try is a little bit related to the BDSM idea mentioned above. There are quite a few men and women that get turned on by having their orgasms controlled by their partners. What this means is that one person is only allowed to have an orgasm if their partner allows it. Giving someone this level of control can be very interesting, and some people get a lot of satisfaction from this. You could deny your partner the privilege of climaxing several nights in a row. When you finally do allow it, sparks are surely going to fly.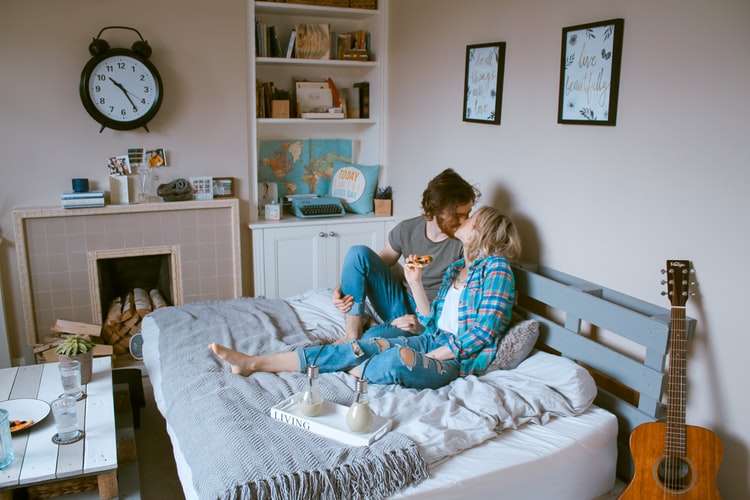 Source: unsplash.com
Have Sex In Unusual/Different Places
Do you always have sex in your bedroom? If so, then you might be a little bit bored with the setting. Mixing things up by having sex with your partner somewhere new might feel a lot kinkier. Some people even choose to have sex in places such as the backyard or the car. This is a bit dangerous, and you should be mindful of the laws against such things. Regardless, having sex in interesting places turns you on more. Even just having sex in a different part of your home might be enough to turn you on.
Spanking
Spanking your partner or being spanked by your partner could also be quite the turn on. Those who are looking for kinky things to do in the bedroom will enjoy the idea of sexual spanking. You could incorporate light spanking sessions as a part of your foreplay. Some people even feel that spanking during sex adds to the overall experience. Just make sure that your partner is into the idea before proceeding.
Choking
Choking during sex is another kinky action that has become very popular. This also has the potential to be dangerous, so you need to be very careful when you decide to do this. Choking someone and limiting their air intake during sex has the potential to heighten their sexual satisfaction. Many people enjoy this a lot, but you do need to do it properly. Choking someone too hard or for too long could result in injury or death. Just keep your wits about you and don't go overboard with the choking if you do decide to add this to your sexual repertoire.
Make Use Of Sex Toys
Even just buying some sex toys could add a significant amount of flair to the bedroom. You might be able to spice things up a great deal by using various toys. They make sex toys that appeal to both men and women. Pick out some favorites and use them in kinky ways to get yourselves going. You could also use sex toys as a great way to get ready for other sex acts such as anal sex. Consider buying some toys if you think that you and your partner would be into it.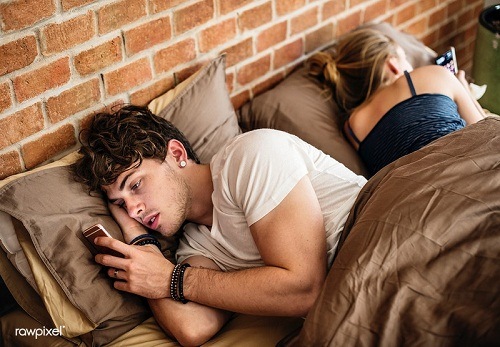 Source: rawpixel.com
Consider Having A Threesome
This last kinky idea might not be for everybody, but some people will have it on their sexual bucket list. If you want to shake things up in the bedroom, then considering having a threesome might be a good idea. Granted, this isn't something that every couple is going to be comfortable with. It isn't even a good idea for every couple as it could lead to jealousy and might end some relationships. That being said, some couples will love the idea of adding someone new to the bedroom.
A kinky sex idea like this is going to work out best when one member of the relationship is bisexual or pansexual. Finding another man or woman to join you and your partner for a sexual encounter might not always be easy either. It's probably a good idea to take your time to get to know someone rather than taking a chance on a stranger. You want to be safe, and you want to make sure that everyone is comfortable. Only go through with this idea if both of you agree to it, and you think your relationship is strong enough to survive the implications.
You Can Always Count On Online Relationship Therapy Too
If you feel like you could use a bit more help, then you might want to consider reaching out to get online relationship therapy. This type of therapy is incredibly convenient, and you can get help with many different problems. An online therapist can help you to work through any sexual issues that you might be experienced. They can help you to rediscover your love for your partner while building a stronger relationship. You don't have to face your problems alone when you have a therapist who can help you from the comfort of your own home. Sign up today if you would like to talk to a professional.
---
Previous Article
How Important Is Sex In A Relationship?
---
Next Article
How To Tell If You Are An Emotional Hostage, And What To Do About It
---
The information on this page is not intended to be a substitution for diagnosis, treatment, or informed professional advice. You should not take any action or avoid taking any action without consulting with a qualified mental health professional. For more information, please read our
terms of use.