BetterHelp: Is BetterHelp The Best Online Therapy & Counseling Platform In 2020, And Why?
By: Sarah Fader
Updated September 11, 2020
In recent months, the concept of getting counseling therapy online has taken on an entirely new meaning. With people social distancing in the US and worldwide, many in-person therapy options are simply unavailable.
As a result, mental health sufferers worldwide are turning to online therapy options for managing chronic and acute mental health conditions like depression and anxiety (along with other commonly reported mental health issues).
In this article, we discuss the benefits of getting online therapy using the world's current leading therapy platform -- BetterHelp. We answer the question, is BetterHelp indeed the best online therapy counseling platform, and why? Let's start with a basic overview of the leading therapy platform online.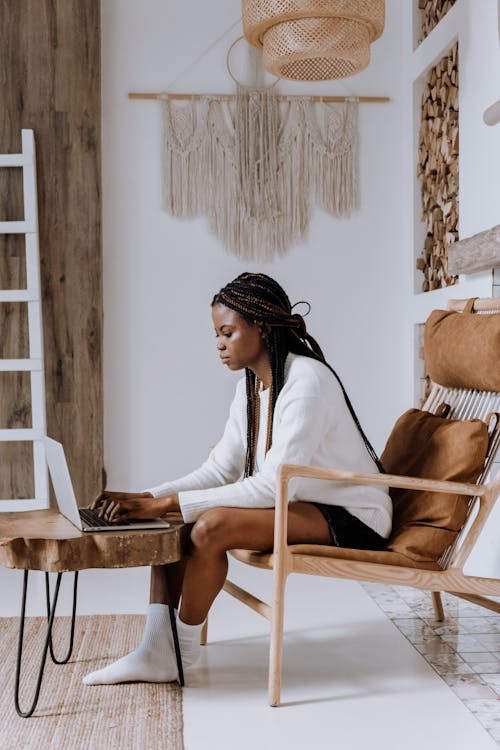 Source: pexels.com
The BetterHelp Online Therapy Platform - A Professional Overview
BetterHelp is currently the world's largest e-counseling platform online. The mission of the BetterHelp platform is to make sure that individuals, couples, and families struggling with life's challenges have a safe place to voice their concerns and get professional advice. With the rise of COVID-19, more people than ever before are turning to online therapists like the licensed professionals at BetterHelp to find relief for mental health-related conditions.
So why are so many mental health sufferers choosing BetterHelp? Clients who regularly use the BetterHelp platform for online counseling therapy tout its ease-of-use and flexible scheduling among the top features of the platform. Unlimited access to texting therapy options allows people suffering from mental health concerns (and those seeking professional advice) to speak with a live licensed therapy professional any time of the day or night.
Just knowing that such a service is always on and always available is enough to bring many of BetterHelp's clients comfort and relief.
Another important feature of the platform is the professional counselors themselves who take pride in providing the best in evidence-based research and care for clients who seek out their services. The platform currently boasts over two-thousand licensed therapy professionals nationwide. Clients who seek therapy treatment in the US can instantly connect to a licensed professional who specializes in their area of concern.
Online counseling helps you with your problems.
Everyone deserves support and guidance in life. That's what you can get in counseling and therapy. When you see an online counselor, you can be yourself. There are no filters. Online counseling is a place where you are safe to express any issues you're dealing with, such as stress, anxiety, trauma, anger, and depression. You deserve to be happy, and that's what online therapy can help you achieve. If you're living with a mental illness, you can talk about that in online counseling. There are many different issues that cause mental distress. If you're suffering from depression, anxiety, or panic, online counseling can help.
It's crucial to make sure that your therapist is a good fit. When you visit the site, you can find a therapist who meets your needs. In some cases, licensed family therapists may be appropriate. These professionals can help you navigate problems with your relatives. If you're having problems in your relationship, you may want to try online couples counseling. Therapy can help individuals and people in romantic relationships. Couples counseling can help people work through problems and save their connections. It's crucial to find a therapist who is trained to help you with your specific issues. The person you're sharing your problems with needs to understand you. You can visit BetterHelp online and search through the licensed therapists to find one who can help you with your specific problems.
It can feel isolating to have mental health problems and not have support. With BetterHelp, you can have live sessions with your therapist, whether it's through chat, phone, or video sessions. Whatever method you choose to speak to your therapist, it's crucial to feel comfortable. Some people prefer to connect with their counselor through phone sessions because it makes them feel less awkward than being on video. When you're feeling down, a phone call from your online therapist can make you feel less alone. Some people prefer to do video chat. It depends on what you need out of treatment. You may prefer to use chat, phone, or messenger to communicate with your therapist. In the live sessions of professional counseling you receive through BetterHelp, you receive support and guidance from licensed, trained, experienced, and accredited online therapists.
Learn more about online therapists.
When you pursue online therapy, you will look through a database of therapists. Some are licensed clinical social workers; others are clinical psychologists. All of the providers are professional board-certified clinicians. You will be matched with a counselor who specializes in your particular area of need. If you suffer from PTSD, you may find a licensed therapist who is a trauma specialist. Counseling and therapy work when you work with a provider who understands what you need out of treatment. For example, if you suffer from OCD or anxiety, you might benefit from cognitive behavioral therapy. Our thoughts are powerful influences on how we think and feel. When you constantly have negative thought patterns, it can be exhausting and make you feel down. CBT is an excellent form of treatment that helps people change their negative thought patterns into positive ones.
You can engage in cognitive behavioral therapy online. It not only works for anxiety, but CBT is excellent at treating depression. Cognitive behavioral therapy helps people confront their depression and reframe the self-destructive thoughts. When you change your thoughts, you can modify your mood and behavior. One of the main principles behind cognitive behavioral therapy is understanding cognitive distortions. A CBT therapist will teach you how your thoughts influence your emotional state and behavior. Cognitive distortions are assumptions that we make about situations and people that are detrimental to your wellbeing. For example, you might assume a friend is angry with you because you believe you can know what they're thinking without asking them. That is a cognitive distortion called "mind reading.'' In cognitive behavioral therapy, you will learn these assumptions and how to reframe your thoughts. In a live session with your online therapist, you can learn more about cognitive behavioral therapy and decide if it's right for you. If not, there are many other forms of therapy that you can choose. All the providers are professional board-certified therapists who are ready to help you.
Getting support helps your mental health.
BetterHelp is an affordable online therapy service that helps many people. One of the competitors BetterHelp.com has is Talkspace, and It's affordable, and the client is either billed monthly or could be a week billed at a time. It depends on which option is the most convenient for you. Make sure to read the terms of service on the site as well as the privacy notice. That way, you're informed about what to expect from BetterHelp. All your information is confidential. You can also download the BetterHelp app in the Google Play store play.google.com or in the Apple store. With technology expanding, it's become easier to get help for your mental health. You would be surprised at how helpful talking to an online therapist can be. It's freeing to speak to someone in the privacy of your home where you feel safe and at ease. If you're considering online therapy, follow that instinct. What do you have to lose? You can give it a shot and see if it's a good fit for you. Your mental health matters and online therapy can help you maintain it. Don't be afraid to reach out for help.
Explore BetterHelp's mental health resources.
BetterHelp is not just an online therapy company. Yes, there are some excellent therapists who can help you. The counselors on BetterHelp are licensed accredited mental health professionals. It's also a hub to get wellness information. You can watch YouTube's BetterHelp mental health channel where experts in the field discuss psychological issues. The counselors on BetterHelp are licensed trained mental health professionals. Their hands on experience are valuable. By talking about mental health on the channel, they're not promoting BetterHelp directly, but rather sharing their wisdom about mental health topics. The same goes for the Advice column on the site. You can read about a variety of topics in this section, such as the anxiety relationships cause us, or how stress impacts the brain. Sometimes you don't realize your problems until you read about them. You might not see how much anxiety relationships cause you until you read about romantic connections in the Advice section. There you can get guidance. In addition to the Advice section, you can read about the studies that show how effective online therapy is at treating mental health problems. People using BetterHelp experienced significantly reduced symptoms of depression.
Are online therapists qualified to help me?
Suppose you're curious about how people like the service, you can read a BetterHelp online therapy review. It's good to see what others think about their experiences. When you read the reviews on BetterHelp, you'll note how happy people are with their therapists. It's because they're getting quality treatment. It's clear that users of BetterHelp experienced working with supportive providers. The therapists who work through BetterHelp have exams, training, and practice in psychology. They are qualified and certified to help you. BetterHelp is known as the largest counseling service online. The mental health providers all have a degree or doctorate in psychology. They could only work for the BetterHelp by completing the necessary education requirements to be a mental health provider. Online therapists have hours of hands on experience in the field. They have worked both online or face to face with clients. It's crucial to see experienced and accredited psychologists if you want to better your mental health. If you have a severe mental illness, you could benefit from online counseling, but it's crucial to discuss your symptoms with your provider. It may be that you need face to face treatment.
Is it worth the cost?
When it comes to therapy of any kind, people worry about the cost. You want to be able to afford mental health treatment. It's comforting to know that counseling through BetterHelp ranges in price to suit your needs. You can see a therapist once a week billed monthly. It's a quality service that's worth the cost. Remember, you're seeing mental health professionals, including accredited psychologists PhD PsyD, accredited psychologists PhD PsyD, clinical social workers LCSW or Professional Counselors LPC, to name a few. Don't focus too much on the degree. As long as the individual is licensed to perform mental health services and is giving you quality care, that's what matters. Licensed Professional Counselors LPC, can provide the same level of treatment as a PsyD marriage and family therapist. All mental health providers at BetterHelp have relevant education exams training and are competent. They want to help you heal.
Licensed Mental Health Professionals - Behind The Scenes
Licensed mental health professionals on the BetterHelp platform include:
Psychologists - Ph.D | Psy.D
Licensed Marriage and Family Therapists | LMFT
Licensed Clinical Social Workers | LCSW
Licensed Professional Counselors | LPC or similar credentials
Each mental health professional brings an expert set of skills into the online therapy environment. All of the therapy professionals who work on the platform have completed a rigorous clinical training program that combines education, hands-on-training, and a dose of empathy to clients on the platform.
BetterHelp clients report regular success as their lives begin to improve and they start making better, more informed decisions about the path their lives will take. The therapists who work on the BetterHelp platform are the same licensed mental health professionals that you would find in hospitals, clinics, private practice, and group practices offline.
Many of these professionals opt to provide services online to supplement their growing practices and to make it easier for their clients to reach them for support online -- any time of the day or night.
What conditions do the professionally trained counselors with a doctorate degree, LPC, or similar credentials treat online?
The experienced and accredited counselors and therapists focus on areas from depression, family conflicts, LGBTQ matters, grief, religion, and similar issues. It may surprise you to learn that in addition to mental health therapy, BetterHelp counselors also treat issues surrounding addictions, eating, sleeping disorders, and related issues.
Now that you have an idea of who the professionals behind the BetterHelp counseling service are (and what they treat) let's look at how the platform works.
Most people are nervous when they try something new for the very first time. Getting therapy online is no different. What BetterHelp clients consistently find is a reliable therapy platform where they can receive personal service tailored to their individual mental health-related needs. on an ever-growing platform that is operated by mental health professionals who care about their needs and helping chronic mental health sufferers to find relief.
How to Get Affordable Therapy Online With BetterHelp
Getting started on the platform is easy. To get started a new client can register to receive personal service by downloading the free BetterHelp app. The text, video, and chat app is available on the Google Play and App Stores. Sessions with your counselor are conducted via a secure virtual private network using an internet-connected device like a smartphone or tablet. Desktop users can also login via Windows or Mac and chat with a live therapist online.
Once you've downloaded the free BetterHelp app, the next step is to answer a short questionnaire that provides your online therapist with an introduction to who you are and why you're coming to therapy.
After you've completed your questionnaire, you're presented with a list of compatible therapists to choose from. Choose the therapist that best fits your needs from a list of accredited psychologists and other clinically trained counselors. Select the time that accommodates your current schedule, and you're off!
When it's time for your session, you can logon to chat with your therapist via SMS messaging, live audio chat, or live video sessions using your desktop computer or other internet-connected devices like a smartphone or tablet. Therapists on the platform are flexible which makes it easy to choose the option you feel most comfortable with.
Compared to the costs of traditional in-office therapy, getting online therapy at BetterHelp is relatively inexpensive. Unlimited SMS messaging therapy plans are available for less than the cost of a typical in-office session.
The national average cost of therapy in the United States is $65.00 - $200.00 or more depending on factors like cost-of-living and location.
Therapy Is Personal
Therapy is a personal experience, and not everyone will go into it seeking the same things. But, keeping these nine things in mind can ensure that you will get the most out of online therapy, regardless of what your specific goals are.
If you're still wondering if
therapy
is right for you, and how much therapy costs, please contact us at
contact@betterhelp.com
. BetterHelp specializes in online therapy to help address all types of mental health concerns. If you're interested in individual therapy, please reach out to
contact@betterhelp.com
. For more information about BetterHelp as a company, please find us on
If you need a crisis hotline or want to learn more about therapy, please see below:
For more information on mental health, please see:
---
Featured in the Wall Street Journal, Business Insider, CNET, Forbes, and Newsweek.
Frequently Asked Questions (FAQs) About BetterHelp
Does insurance cover BetterHelp?
Some insurance providers who are required to provide group health insurance benefits under the Mental Health Parity & Addiction Act provide coverage for mental health services online. To verify if your provider offers coverage for online therapy services, contact your employment or government group benefits provider. Unlike other therapy services online the frequency of your sessions with licensed mental health care providers is unlimited.
What do you talk to a psychiatrist about?
A psychiatrist is a medical professional who provides a safe environment for you to voice your concerns, fears, worries, joys, and anything else that you want to talk about in your therapy sessions. A psychiatrist is a doctor who is clinically trained to answer your questions and address your concerns from a clinical standpoint -- and without judgement.
After getting to know you, a psychiatrist or other licensed mental health care professional may adjust the frequency of your sessions depending on how you're feeling and their observations of your behavior during therapy.
Which is better Talkspace or BetterHelp?
Each popular online therapy platform comes with its own set of features that makes it unique. Clients on the BetterHelp platform enjoy receiving low-cost therapy services from trusted therapy providers who provide therapeutic mental health care services for clients from the comfort of their own homes.
While some people prefer Talkspace, many users choose BetterHelp for its flexibility, ease-of-use, and affordability, and access to a wide variety of online therapy options in areas from depression to post-traumatic stress disorder and panic attacks.
Is Online Therapy Effective?
Yes! In mental health research studies, online therapy is proving to be just as effective (if not more effective) than traditional in-office therapy for a variety of reasons. The most important reason may be that without the anonymity and flexibility that getting therapy online provides, many people don't get much-needed therapy at all.
Cognitive-behavioral therapists who practice online see the same positive improvements in their online clients as offline therapy attendees. For many therapy clients, their therapy update is a boost to their mood and provides peace of mind.
Is BetterHelp worth the money?
When it comes to value, quality, ease-of-use, and providing relief, BetterHelp is definitely worth the cost. In most cases, getting unlimited therapy sessions on the BetterHelp platform costs less than a single visit with an in-office therapy provider. Unlimited therapy options provide BetterHelp users with consistent options for getting the support and relief they need 24-hours a day. At challenging times like these where more people are struggling with mental health issues, knowing that BetterHelp is just a click away is worth its weight in gold.
Can BetterHelp diagnose you?
The clinical therapists at BetterHelp have been trained to administer diagnostic psychological tests and assessments to assign a correct diagnosis and verify existing diagnoses given by mental health professionals and medical doctors.
In cases where the available diagnostic tools aren't in line with client needs, your BetterHelp therapist can work in conjunction with a Psychiatrist, Social Worker, or other licensed mental health professional to provide the diagnosis and support you need.
Does BetterHelp give refunds?
We understand that taking part in a therapy session with a licensed counselor has been shown to cause a gradual improvement in the quality-of-life of many of our clients. In some cases, results may not be immediately evident or there may be personality clashes with your therapist. We're all human and from time to time this happens.
As a result, BetterHelp evaluates refund requests on a case-by-case basis. We will evaluate your issue on a case by case basis and, at our discretion, take steps to resolve any issue, including but not limited to helping you find a new Counselor, extending your subscription at no cost to you, and issuing partial or full refunds when applicable.
What is the best online therapy site?
The best online therapy site is the one where you feel safe, heard, and valued each time you log on. We all have our own needs. This means, there isn't a one-size-fits-all approach to online therapy. At BetterHelp, the professional therapists and staff make every effort to assure that you feel supported, at home, and most of all relief after taking part in regular online therapy sessions with your counselor (or another licensed provider).
Taking part in regular sessions with a counselor has been shown to improve client happiness ratings by as much as 70% for clients who participate in cognitive-based therapy sessions. We believe that everyone deserves to be happy. At BetterHelp, we can help get you one step closer to your happiness.
BetterHelp Success Stories
---
Next Article
6 Fitness Motivation Tips To Start You On Your Fitness Journey
---
The information on this page is not intended to be a substitution for diagnosis, treatment, or informed professional advice. You should not take any action or avoid taking any action without consulting with a qualified mental health professional. For more information, please read our
terms of use.